Lonar is one of Maharashtra's best-kept secrets. This Lonar Lake is incredibly 50,000 years old lake. It is also called Lonar Crater is the youngest and best preserved impact crater formed in basalt rock and is the only of its kind on earth. The crater was formed fifty-two thousand years ago, when a gigantic meteor crashed into the earth at an estimated speed of 90,000 km per hour.
Lonar Crater has a mean diameter of 3,900 ft and is about 449 ft below the crater rim, and meteor crater rim is about 1.8 KM in diameter.
The Lake is mainly fed by Dhara and Sita Nahani streams. The Lonar Crater is protected as a geological landmark and authorities have recognized the role of the historical and archaeological heritage in the lake.
The lake water contains various salts or sodas, and during dry weather when evaporation lessens the water level, large quantities of soda are collected. The Lonar crater has an oval shape and its meteorite impact came from the east, at an angle of 35 to 40 degrees. The saline deposits obtained from the lake are rather of an exceptional nature.
The salts collected from this lake vary in their nature and composition and from their-appearance are effortlessly separated by men accustomed to handling them. The Lonar Lake is home to a horde of algae and plankton species that thrive in its unusual ecosystem and give the water its vibrant color. Most tourists come to nearby Aurangabad to visit the Ajanta and Ellora UNESCO World Heritage Sites, but never make it as far as Lonar.
Over time, the jungle took over the deep depression, and a perennial stream transformed the crater into a tranquil, emerald green lake. Today, the forest-fringed lake is located in the Buldhana District of Maharashtra. Lonar lake was initially believed to be of volcanic origin, but now it is recognized as an impact crater created by the hyper velocity impact of either a comet or an asteroid.  This beautiful lake water is polluted by using of fertilizers, pesticides and toxic material in the agricultural field. 
However, the lake has wildlife sanctuary with a unique ecology that is vastly different from the surrounding flat landscape. Its water supports micro-organisms rarely found elsewhere on earth while its surroundings are peppered with fragments of unique minerals like maskelynite. The local peoples are destroying Lake Eco system, by bathing, washing clothes and drinking water by cattle's and disposing detergents in them. Deforestation and excavation also carried out here and cattle grazing inside near him create fecal pollution cause environmental damage to nearby land.
Marauding pilgrims and increasing pollution is disturbing its substantial flora and fauna with about 100 resident and migratory birds. Furthermore lonar lake ecosystem is being damaged because of the sewage dump in the lake. Also commercial activities, including illegal construction, within the vicinity of lake has damaged the lake's natural topography. There is a small circular depression at a distance of around 700m from the main lake, believed to be caused by a splinter of the meteor that hit the ground to also make a crater.
The Lonar Lake is also home to thousands of peafowls, chinkara and gazelles. The natural lake is a heaven for a many species of plant and animal life. The migratory and resident birds such as black-winged stilts, grebes, shelducks, shovellers, teals, herons, red-wattled lapwings, blue jays, baya weavers, parakeet hoopoes, larks, tailor birds, magpies, robins and swallows are found on the lake. Also among reptiles, the monitor lizard is reported to be the most prominent. Lonar Lake is one of the most exclusive landmarks on the world. Hence, it is slightly out of the way, but totally worth it.
Before you go there, keep in mind that March till May are the hottest months in Maharashtra, and temperatures can climb upwards of 40°C. Occasional. However monsoons normally starts in June and can go on up to September. The heavy rainfall took place in July. Hence, winter starts from Oct till Feb is mild, with clear skies, gentle breezes and average daytime temperatures that range between 12-25°C. The views of this stunning Crater Lake, the only one of its kind in the world, are bound to give wings to your imagination.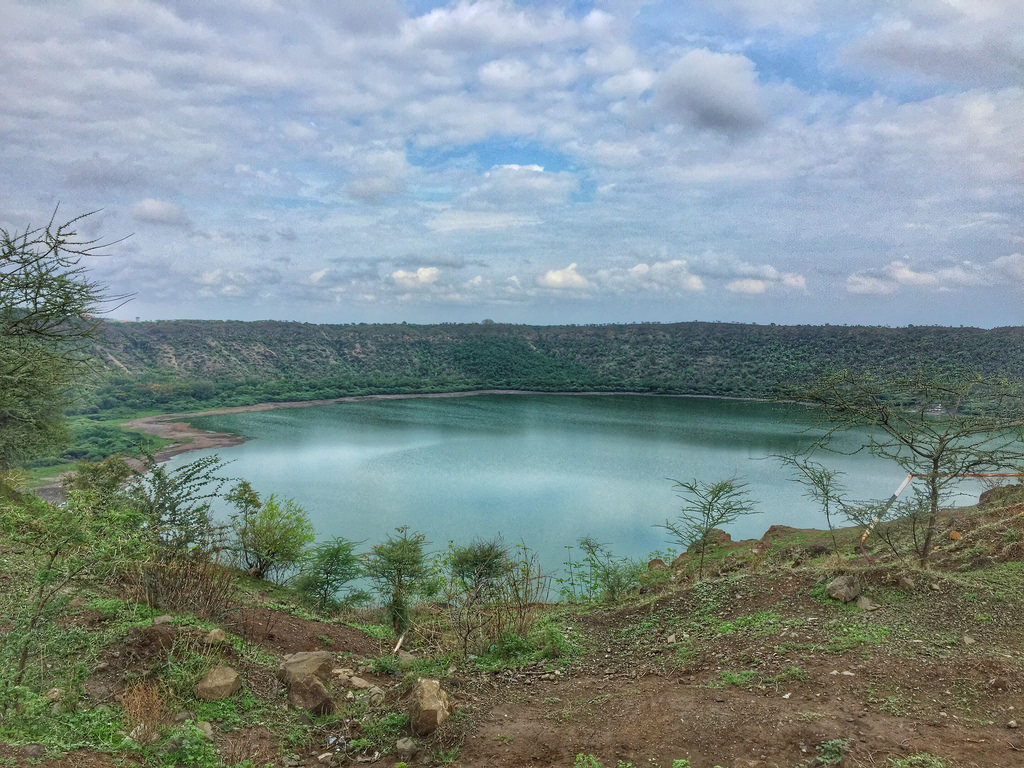 Source: Wikipedia ! Nat Geo Travelleer