DESCRIPTION:
A black Domino Cuckoo Bee with a distinctive spotted pattern of white hairs on the head, thorax, abdomen, and legs. The bees possess neither scopae nor pollen baskets (corbiculae), because they do not forage for pollen. The varied bee lineages evolved the kleptoparasitic behavior, laying eggs in the other bees' nests.  
BEHAVIOR AND LIFE CYCLE:
Active from December to April, this cuckoo bee (family Apidae, tribe Melectini) relies on its host to provide a nest for its young. Typical of cuckoo bees, the mated female locates the host's nest by its scent. A domino cuckoo female spends less than eight minutes in the vicinity of the host's nest.
She waits until the host female has left the nest before entering, and her visit into the nest takes a few minutes. She lays two to four eggs in a clump on the pollen and nectar stores in the brood chamber. Consequently, the cell contains several cuckoo bee larvae, which hatch sooner than the host bee larvae.
They consume the stores, developing rapidly in the egg chamber. The cuckoo larvae vary in size, possibly due to hatching order, those that hatch first eat most stores and are more likely to become fully developed adults.
The cuckoo larvae are more active than the host bee larvae, and because they hatch first, they are bigger than the host larvae so are better able to eat the food supplies. Consequently, the host larvae either starve or emerge as malnourished and stunted adults.
BODY LENGTH
The average size of Domino Cuckoo Bee Female, 0.51–0.55 in. (13–14 mm) and Male 0.51–0.55 in. (13–14 mm.
FOOD PLANTS:
As a cuckoo bee, this species does not collect pollen for its young but relies on the provisions gathered by its host.
HABITAT RANGE:
Domino Cuckoo Bee is locally common, anywhere its host, the Teddy Bear Bee (Amegilla bombiformis) is found.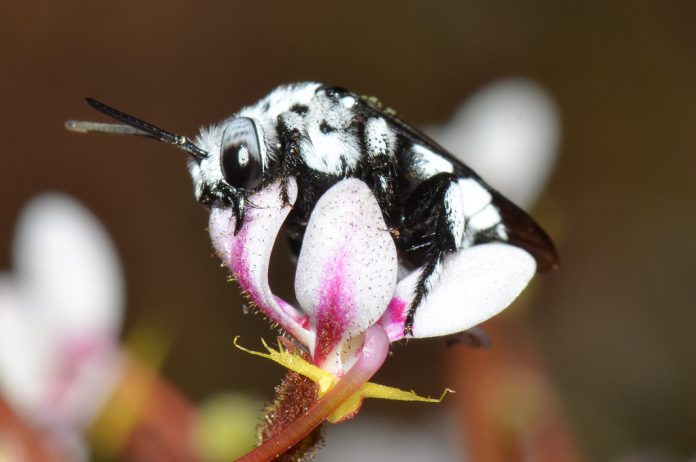 Read More – The Fuzzy Strange Poodle Moth