Best Wildlife Photography Destinations
Nature photography not only sets standards and creates benchmarks, but it also inspires others to highlight the issues faced by wild animals these days and motivates us to bring about the necessary changes to address them.
For this reason, wildlife holidays are being carefully designed by responsible travel operators such as
Naturetrek
, for people who wish to hone their skills with a camera, either alone or in the company of like-minded travelers in some of the best wildlife destinations on the planet.
Alaska for brown bears
Best time: Late May to mid-September 
Suggested duration: Six days
Lake Clark National Park lies southwest of
the capital Anchorage
and is said to hold 92% of the brown bear population of the world. The waterways here are flush with salmon, their favorite food, and watching these magnificent creatures vying with each other to grab a meal makes for memorable photo shoot opportunities in a dynamic environment.
Trips to this remote region usually depart from Patagonia in expedition vessels, in the company of celebrated cameramen, with evenings spent gaining fascinating insight through lectures about the excursion. Apart from brown bears, you will surely come across large seal colonies, penguins, and whales. Plan your trip from late August if you want to see the bears catching fish.
Borneo for orangutans 
Best time: throughout the year, with the most popular being July and August.
Suggested duration: 2N/3D
Photography provides the perfect opportunity to capture pictures of the highly endangered orangutans (less than 4000 surviving in the wild) without causing any damage to their habitat.
Irrespective of whether you are a novice or a seasoned photographer, not only you will have intimate encounters with these beautiful apes but will get chances to photograph Proboscis monkeys as well in the Tanjung Puting National Park in Borneo.
India for tigers
Best time: October to April
Suggested duration: 3N/4D
Spotting tigers in the wild is not an easy task, leave alone photographing them. Despite the fact that 90% of the remaining tiger population is found in the National Parks of India, a majority of visitors return disappointed. Thankfully there is a high density of these beautiful animals in the Ranthambore Tiger Reserve in India where there are excellent chances of encountering tigers in their natural habitat.
The ancient Ranthambore Fort forms the perfect backdrop for wildlife photo shoots. Additionally, the park lies close to the iconic Taj Mahal, thus making it an easy extension to a classic Indian photography Itinerary.
Sri Lanka for leopards
Best time: February to June
Suggested duration: 3N/4D
The world-famous Yala National Park
to the southeast of Colombo enjoys the reputation of holding one of the highest densities of leopards in the world, thereby making it the best place to capture pictures of these endangered cats.
Though leopards are visible throughout the year, it is best to visit Yala in September and October to get a glimpse of sloth bears as well, when they converge in the park to gorge on the berries before going on hibernation. Two safaris per day for three days will provide many opportunities to take pictures of these animals, apart from the leopards and a wide array of birdlife.
America for bears, bison, moose, and more
Best time: May to August 
Suggested duration: 3N/4D
The major part of the Yellowstone National Park which lies in Wyoming is a favorite location for wildlife photographers because of the many landscapes and the diversity of wildlife found there. Wild animals are found all over the park but the best place to photograph them is either in the Hayden or the Lamar Valley.
July and August happen to be the busiest months but at the beginning of May black bears, bison calving, elk calving, grizzly bears and wolf pups emerging from their dens can be seen in the Lamar Valley. This also happens to be the time when all roads in the park are open.
Costa Rica for birds
Best time: November to April
Suggested duration: One week.
Photographing birds is tough, with the high amount of discipline involved requiring huge lenses, tons of patience, and traveling long distances to take a picture of the bird of your choice.
Costa Rica is one such destination, different from others when it comes to wildlife photography, because of the sheer numbers and variety of species to be found there. While you can spend weeks there taking pictures of these feathered beauties, a week will surely provide some endemics including toucans, macaws, vultures, falcons, and lots of river birds.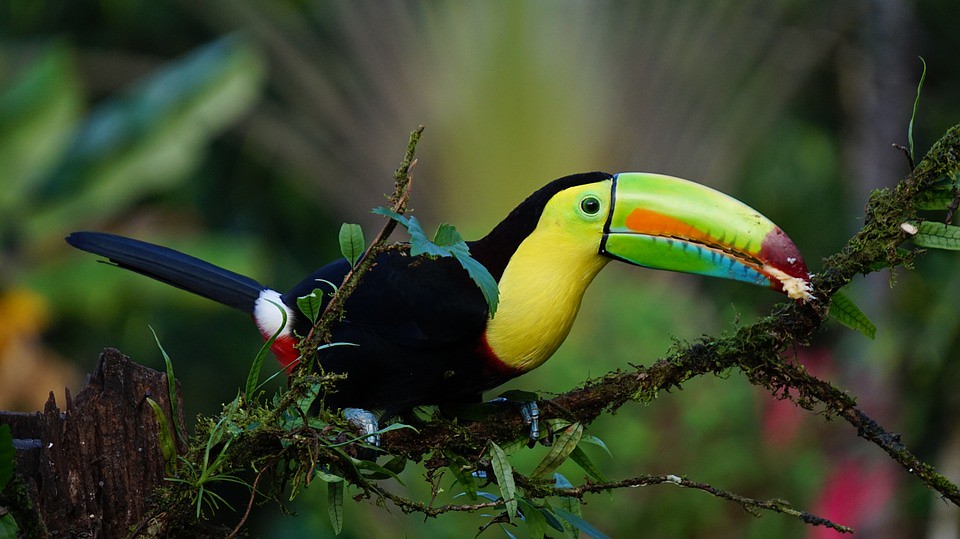 Vietnam for red-shanked douc langur
Best time: February to May
Suggested duration: 3-4 days
Photographing the critically endangered red-shanked douc langur can be a life-changing experience. This unique primate survives only in the forests of the Son Tra Peninsula, near Da Nang in Vietnam. Only a meager 1300 odd individuals are left in the wild and they tend to dwell high up in the canopy making it extremely difficult to photograph them.
That said, using the services of good local guides and a reliable tour operator it is possible to spend quality time with these inquisitive primates and take photos from close quarters. Carry some good waterproof gear as the downpours here have to be seen to be believed.
Tanzania for the Big5
Best time: June to October
Suggested duration: 3N/4D
Sure there are plenty of places in Africa to spot the Big5 but there is something special about filming or photographing them in the Selous Game Reserve in Tanzania. This UNESCO World Heritage Site has the perfect habitat comprising of thick swamps and open grasslands where the star predator is the Selous lion, a slightly smaller version of the counterpart, the African lion. They look rather shabby and have a small mane, but look stunning in photos. Here are 

more places to visit in Tanzania

. They look rather shabby and have a small mane, but look stunning in photos.
Galapagos for birds and marine life
Best time: Year round, with Dec to May best
Suggested duration: Seven days
Situated about 600 miles off the coast of Ecuador the Galapagos Islands have been on the bucket list of wildlife photographers for decades. No wonder, because where else can you take clear pictures of the blue-footed bobby dance or see giant tortoises swimming in their natural environment.
Since your main aim is photography and wildlife-related activities, knowing what you want to film will put you in good stead. For example, the dry season is best for baby sea lions and the wet season is best for green turtles and water iguanas. Other wet season specials are large numbers of waved albatross and flightless cormorants. September is ideal for the sea lions and the Galapagos Penguins.