What a Great Knock by Pakistan captain Misbah-ul-Haq scored Fastest Fifty in the history of Test Cricket, just made in 20 balls against Australia in the second test at Abu Dhabi on Nov 02, 2014. Jack Kallis of South Africa previously has the record in 24 balls against Zimbabwe at Cape Town in 2004-05. A brilliant inning.
Highest Catches Ratio By Any Fielder?
Indian Eknath Solkar's ratio of catches per match is easily the best for a fieldsman who played a considerable number of Tests matches, he played only 27 Tests, but took 53 catches very nearly two per game, the highest ratio by any fielder. Wisden wrote after his untimely death in 2005. "Statistically, Eknath Solkar remains Test cricket's most successful fielder, with 53 catches in just 27 matches – of those who played at least ten, the next-best is Bob Simpson's 110 in 62 Tests, or 1.77 per match to Solkar's 1.96. The top catchers are typically firmly camped in the slip cordon, but most of Solkar's catches came at forward short leg, where he lurked dangerously up close and personal to the batsman. Great Indian left arm spinner Bishan Bedi, of his time whose troublemaker was greatly enhanced by this, confirmed: 'His close-in catching was really intimidating. We'd not have been the same bowlers without him.' Former Ex-Late Tony Greig, an opponent in the 1972-73 series in India, said: 'Ekki was the best forward short leg I have ever seen.' His catching was often preceded by some very idiosyncratic sledging: 'I'll get you, bloody,' he advised Geoff Boycott, and he once told Sir Garry Sobers to mind his own business.
Highest Test partnership by any two players with the same surname, whether related or not.
In 2009, the two Jayawardenes added 351 in a Test against India. It had to be a record for the highest partnership between two unrelated people with the same surname. That partnership of 351 runs between Mahela Jayawardene and Prasanna Jayawardene was Sri Lanka's 6th wicket against India in Ahmedabad in 2009-10: it is actually the highest Test partnership by any two players with the same surname, whether related or not. The preceding record was 269 runs by the Zimbabwe brothers Andy Flower and Grant Flower against Pakistan in Harare in 1994-95. The previous highest partnership between unrelated players who shared the same second name appears to be 151, by Majid Khan and Mohsin Khan, for Pakistan's 2nd wicket against Sri Lanka in Lahore in 1981-82. If you'd like to stretch bit more, then West Indies Viv Richards and Richie Richardson added 308 against Australia in St John's in 1983-84, and Darren Sammy and Marlon Samuels put on 204 for West Indies v England at Trent Bridge in 2012.
Left-arm spinner Zulfiqar Babar, who took five wickets in Pakistan's victory over South Africa in Abu Dhabi earlier this month, was 34 years 308 days old at the start of his first match. Only one Pakistani has made his overall Test debut when older: when off spinner Miran Bakhsh was 47 when he played in two matches of their first home series, against India in 1954-55. Amir Elahi was 44 when he took part in Pakistan's very first Test, against India in Delhi in October 1952, but he had previously played a Test for India in Australia in 1947-48. And Gul Mohammad celebrated his 35th birthday during his only Test for Pakistan against Australia in Karachi in 1956-57 after previously winning eight caps for India. Only 11 more players, including current squad players Saeed Ajmal and Mohammad Irfan, have made their Test debuts for Pakistan after turning 30.Oldest Pakistani Test Debutant
Check OUt Wikipedia Oldest Cricket List
Highest partnership in a one-day international defeat
The highest partnership in a defeat cause in an ODI is 235, for South Africa's first wicket, by Gary Kirsten and Herschelle Gibbs against India in Kochi in March 2000. That highest opening stand lifted South Africa to 301, but India overhauled that with two balls to spare. There have been 10 more stands of 200 Runs or more which weren't enough to bring victory in an ODI, five of them against India.
Player Re-Appeared After A Gap.
John Traicos made his Test debut for Zimbabwe in 1992-93, some 22 years 222 days after his previous Test, for South Africa in 1969-70. George Gunn, the old Nottinghamshire opener, had a gap of 17 years 316 days between the 1911-12 Ashes and his recall, aged 50, for the series in West Indies in 1929-30. Gunn held the record for more than 60 years. Pakistan Younis Ahmed played two Tests in 1969-70, then two more in 1986-87, after a gap of between his appearances was 17 years and 111 days. In terms of matches missed, , Martin Bicknell, who missed 114 England Tests between the 1993 Ashes series and a brief recall against South Africa ten years later.  Younis Ahmad is again third on the list with 104. The England seamer Derek Shackleton missed 103 Tests between 1951-52 and 1963, and West Indies played 109 between Floyd Reifer's fourth Test in South Africa in January 1999, and his recall for the fifth, as captain during a contracts dispute against Bangladesh at home in July 2009.
Span Missed
| | | | | | |
| --- | --- | --- | --- | --- | --- |
| Player | Span | Mat | From | To | Missed Span |
| AJ Traicos (SA/Zim) | 1970-1993 | 7 | 10-Mar-70 | 18-Oct-92 | 22y 222d |
| G Gunn (Eng) | 1907-1930 | 15 | 1-Mar-12 | 11-Jan-30 | 17y 316d |
| Younis Ahmed (Pak) | 1969-1987 | 4 | 2-Nov-69 | 21-Feb-87 | 17y 111d |
| JMM Commaille (SA) | 1910-1928 | 12 | 14-Mar-10 | 14-Jun-24 | 14y 92d |
| DC Cleverley (NZ) | 1932-1946 | 2 | 1-Mar-32 | 29-Mar-46 | 14y 28d |
| F Mitchell (Eng/SA) | 1899-1912 | 5 | 4 Apr 1899 | 27-May-12 | 13y 53d |
| GM Carew (WI) | 1935-1949 | 4 | 10-Jan-35 | 11-Feb-48 | 13y 32d |
In Terms of Matches Missed
| | | | | | | | |
| --- | --- | --- | --- | --- | --- | --- | --- |
| Player | Span | Mat | Team | From | To | Missed Span | Matches Missed |
| MP Bicknell | 1993-2003 | 4 | England | 9-Aug-93 | 21-Aug-03 | 10y 12d | 114 |
| FL Reifer | 1997-2009 | 6 | West Indies | 18-Jan-99 | 9-Jul-09 | 10y 172d | 109 |
| Younis Ahmed | 1969-1987 | 4 | Pakistan | 2-Nov-69 | 21-Feb-87 | 17y 111d | 104 |
| D Shackleton | 1950-1963 | 7 | England | 7-Nov-51 | 20-Jun-63 | 11y 225d | 103 |
| HL Jackson | 1949-1961 | 2 | England | 26-Jul-49 | 6-Jul-61 | 11y 345d | 96 |
Most Sixes in One Day International.
There were 38 sixes in the last one-day international between India and Australia at Bangalore 2013 was easily a record in an ODI, well beating the previous 31 sixes hit by New Zealand (13) and India (18) in Christchurch in March 2009. Both sides in Bangalore at full mood and cracked 19 sixes, beating the previous record of 18 in an innings, which had happened four times, most recently in that Christchurch match. Moreover 38 sixes was also a record in any List A (senior one-day) game, beating the 33 hit by New South Wales (14) and Victoria (19) in their Ryobi Cup match in Sydney in 2012-13.
Most Sixes hit by Any batsman
Opener Rohit Sharma's (209) 16 sixes was a new record in one-day internationals, shading Shane Watson's 15 for Australia against Bangladesh in Mirpur in April 2011. The T20 record was set in August by Aaron Finch, with 14 for Australia v England in Southampton, while the Test-best is 12, by Wasim Akram during his 257 not out for Pakistan against Zimbabwe in Sheikhupura in 1996-97. While in List A innings Gerrie Snyman's 196, hits 17 sixes over the ropes, for Namibia in a World Cricket League match against the United Arab Emirates at Windhoek in November 2007.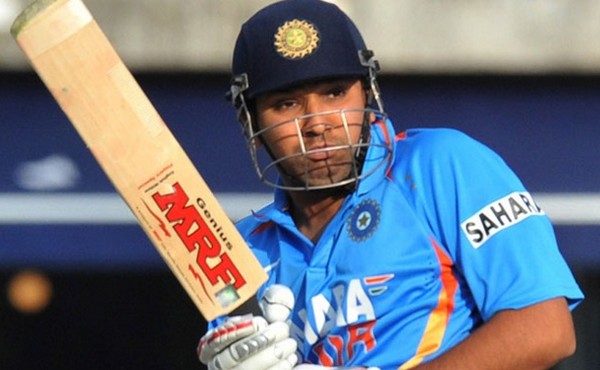 One Day Hundred at No. 7
Australian James Faulkner's express 116 in last ODI in Bangalore against India was actually the 10th century by a No. 7 in one-day internationals. The first batsman was Sir Lankan Hashan Tillakaratne's round 100 for Sri Lanka against West Indies in Sharjah in Oct 1995, whereas the highest runs remains MS Dhoni's unbeaten 139 for the Asia XI v Africa in Chennai in June 2007. James Faulkner's hundred, which came up in just 57 balls, actually is the fastest by a No. 7, beating Indian Yusuf Pathan's 68 balls against South Africa in Centurion in January 2011. For the record, there has not yet been a one-day hundred by anyone batting lower than No. 7.
Defeat mere by 1 Run
South Africa's slight victory in Sharjah was the 27th occasion that a side had won an ODI by one run. It was the 3rd time it had happened to Pakistan, where they were on the wrong end of the first such result, against New Zealand in Sialkot in October 1976, and also in the most recent previous instance losing to West Indies in Bridgetown in May 2011. In between, Pakistan also managed to win one by a single run against West Indies in Sharjah in October 1991. Champions of the one-run finishes are Australia, who had won five ODIs by that slender margin; India, New Zealand and South Africa have all won four.
Test debut on his birthday. Pakistan left handed opening batsman Shan Masood celebrated his 24th birthday on the first day of Test against South Africa in Abu Dhabi. He gave himself a present the following day by making 75 in his maiden innings. Shan Masood was actually the 12th man to make his Test debut on his birthday, and the first since Sewnarine Chattergoon of West Indies, against Sri Lanka in Port-of-Spain in April 2008. The first man to do it actually did so in the first Test of all is Australian Bransby Cooper, against England in Melbourne in March 1877, was celebrating his 33rd birthday on the first day of Test cricket.