The Coyote Buttes, in a remote region on the Arizona-Utah border, were considered inaccessible and almost unknown. It has become easier to explore the desert backcountry and venture into locations that were once too hazardous and too distant.
These places are protected by acts of Congress as wilderness areas, to keep them from being overrun and exploited. The area has dinosaur trackways in this region densely packed with more than 1,000 footprints from roughly 200 million years ago.
The BLM (Bureau of Land Management) uses a quota system and grants limited numbers of permits to keep visitors to a minimum in brittle areas like the Coyote Buttes. The BLM website has maps of the Coyote Buttes area, showing hiking advice, and offers permits to anyone. Because of the most beautiful places like "The Wave," in the North Unit of the Coyote Buttes, are national treasures.
With such exclusive examples of geology, they should be kept open and reachable to those able to make the spirited hike into this remote region. They want to preserve these subtle and delicate lands and don't want to be locked out. Photographers should be able to enjoy and photograph these remote and protected parts of America. The Wave can be really challenging to locate due to the lack of an established, marked trail.
Most of the North Unit of Coyote Buttes lies at an elevation of five thousand feet. Because the winter snows on the Slick rock can hide the trail and make it slicker. A light dusting of snow on the tops of the formations can make a fantasy land for photographers. Anyone entering the region in mid-winter must be prepared for cold weather and Breeze.
When you scroll through the BLM Website and find spaces still available for hiking permits during Dec, Jan, and Feb, make sure that you may be lucky and get a permit for a cool, clear, bright day or you may arrive during a blizzard. Control Tower and East Tepees are one of the more prominent and interesting rock features in this region.
It is also listed later with GPS coordinates, as it is both interesting, and a very good central locator for the East Tepee group. In the early morning or late afternoon, the wave becomes draped in shadows that hide many of its rainbow colors and curves.  The region covered by the wave is not large, but it offers delightful photographic possibilities.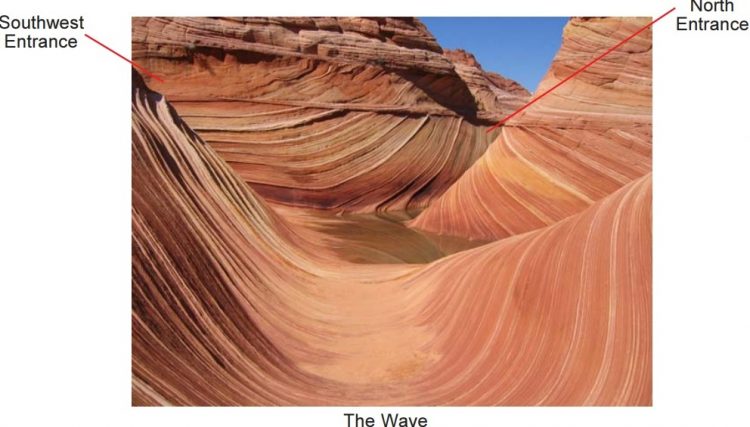 Read More – The Snapping Turtles (Chelydra serpentina)
Affiliates Links:
Source: Wikipedia