The Rare Nine Unique Rose Varieties
Rare roses are flowers that are not commonly found in gardens or nurseries. They are often hard to find and expensive. There is a wide variety of rare roses, from the very common, such as the hybrid tea rose, to the very rare, such as the species of roses mentioned below.
1. Papageno
This beautiful two-toned rose is a Hybrid Tea, which was bred in 1989 by Samuel Darragh McGredy IV. The unique coloration makes it instantly stand out from other varieties and a large bloom only gives emphasis to its odd look. This good-looking rose can grow up to 3 or 4 feet tall and has a mild scent.
It also requires spring pruning and freezer protection. This rose is such a seductress, sultry and mysterious, and makes a gorgeous cut rose. Cut back canes that cross and remove old canes and dead or diseased wood. You may need to cut back one-third of the remaining canes in warmer climates. Pruning will probably need to be done a bit more in colder areas.
2. Claude Monet
Claude Monet is a Hybrid Tea with average double blooms in yellow and light pink stripes and streaks that have a mild to strong fruity scent. If you don't want red or pink roses their odd coloration will be right away draw attention. These rose varieties will absolutely add drama to your garden as well as add a splash of color to a green lawn. Up to five flowers can be found in a cluster or carried singly. There are multiple flushes of blooms throughout the growing season on 'Claude Monet'. As the flower ages, it becomes cream and pink, then lemon yellow splashed with crimson. A hybrid tea originally developed by Christensen based on unknown parents was developed before 1992. French painter Claude Monet gave the rose its name.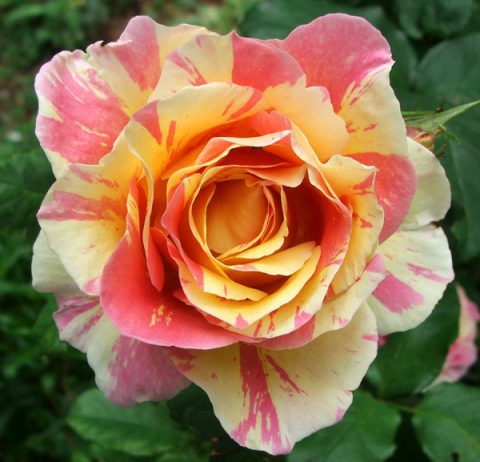 3. Rainbow Rose
The rainbow rose petals artificially colored by water are drawn up the stem and splitting the stem and dipping every part in different colored water, the colors are drawn into the petals resulting in a multicolored rose. These changes to the rose, cause them to not live as long as an uncolored rose.
Researchers are doing to find the best cultivar for this unique coloring process, with the result that the Venezuela Rose is the only cultivar that absorbs all the different colorants perfectly, which is a Hybrid Tea, the cream rose that grows in the Netherlands, Colombia, and Ecuador. When the rose is in full bloom it has a flower diameter of 6 cm and a stem length of 40 to 100 cm. The rose is not scented.
4. Nostalgie
Nostalgie is an astonishing two-toned rose with red outer petals and creamy middle. The rose is a Hybrid Tea bred in 1995 by Hans Jürgen Evers. Select zones 6b to 9b and enjoy a shrub-type plant with beautiful two-toned blooms. Nostalgie blooms in early summer, late summer, and from early to mid-fall. It also has a well-built scent and double bloom that can include up to 40 petals. Double Delight is a visually related rose variety that was bred before 1976.
5. Rive Gauche or Green Eye
Rive Gauche or Green Eye is akin to varieties from Green Valley Floral that were genetically bred to have the green foliage growing in the middle of the bloom. The petals are reflexed while the green foliage is pointed. Rive Gauche features light pink blooms surrounding the green leaves while the Green Eye has yellowish white flowers.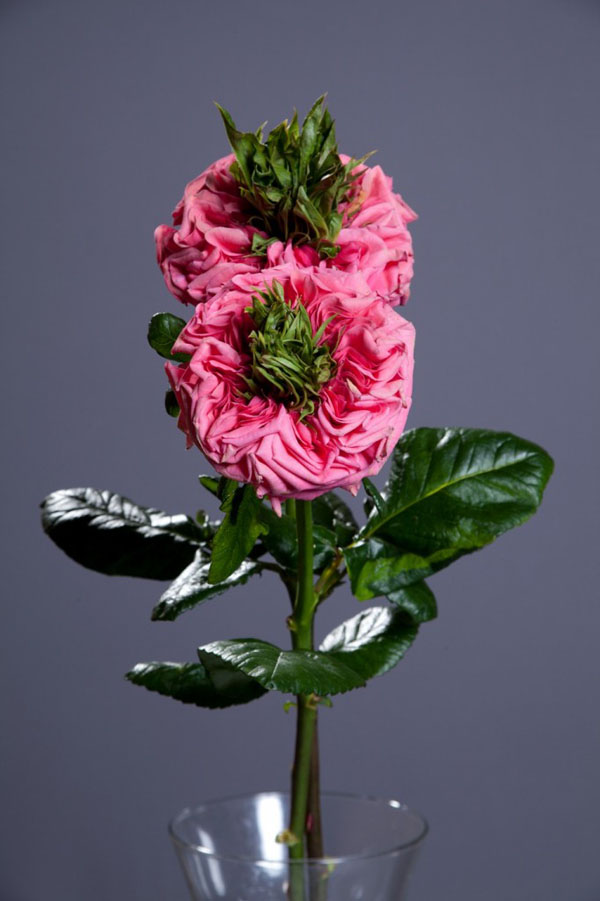 6. Hocus Pocus
This is another strange rose. It is a floribunda, a florist rose that was unearthed by W. Kordes & Sons in 2000 and is akin to Black Beauty thanks to its velvety dark red blooms but sometimes features yellow stripes. This lovely rose is not stable meaning its blooms can come without stripes.
Abracadabra rose unearthed in 2002 is a sport of Hocus Pocus and features similar yellow streak coloration on dark red petals. Memphis Music is a red blend mini-flora that grows in parallel zones and is slightly akin to both Hocus Pocus and Abracadabra thanks to its dark red petals and yellow streaks.
7. Rainbow Sorbet
This Floribunda was bred before 2004 and descends from the Playboy variety. The lovely rose has yellow petals with pink edges and grows up to 5 feet tall. It is defiant to disease and is winter hardy. The rose blooms from late spring to early fall. Surprisingly this rose has none no slight fragrance.
8. Félicité Parmentier
This one is an Old Garden Alba rose that was bred before 1836 by Louis-Joseph-Ghislain Parmentier. The rose has a light pink bloom that intensifies toward the middle and a strong scent. Felicite Parmentier is very shade-tolerant and grows up to 4 or 5 feet tall. Its blooms are simply amazing with multiple up to 120 beautifully layered petals and strong fragrance.
9. Osiria
Osiria is a red blend of Hybrid Tea rose with an odd coloration of petals which are velvety red at the front and white at the back. The variety was bred in 1978 and features large blooms. Osiria is a repeated bloomer and has a muscular scent. Its petals can also turn dark red which amazingly contrasts with the silverback. Willemse France introduced Osiria into commerce in France in 1978, a hybrid developed by Mr. Reimer Kordes of Germany. There are plenty of blooms, but the bush grows slowly and the blooms have weak necks, so they droop.
Make Your Own Floral Pins
Floral

lapel pins

are a great conversation starter that will impress. Adding one to your everyday outfit shows others that you think about details and take pride in what you're wearing. This small but custom-made most unique flower won't overwhelm your suit, it shows you're a person with bold taste.