The Crescent Honeyeater is restricted to South Eastern Australia. There are several names for this honeyeater, including Chinawing, Egypt, and Horseshoe Honeyeater. The crescent honeyeater (Phylidonyris pyrrhopterus) belongs to the Meliphagidae family of honeyeaters. They live in sclerophyll forests that are wetter than those of the other phylidonyris honeyeaters.
With the exception of South Australia, they shift their attitude with the seasons throughout their range. Their breeding takes place in high mountain gullies and forests in the spring, as they migrate down close to coasts in autumn. Despite being socially monogamous, crescent honeyeaters have a promiscuous sexual life, often pairing up for more than a year at a time.
Crescent Honeyeaters are primarily nectar-feeders like their relatives. These birds gather loosely in loose aggregations under eucalyptus trees, banksias, telopeas, and heaths, where they feed from under shrubbery to the tops of trees, but mainly in the middle strata. The flight between trees is characterized by fast, undulating steps. Nests are constructed and incubated by the female without assistance, and both sexes feed the young.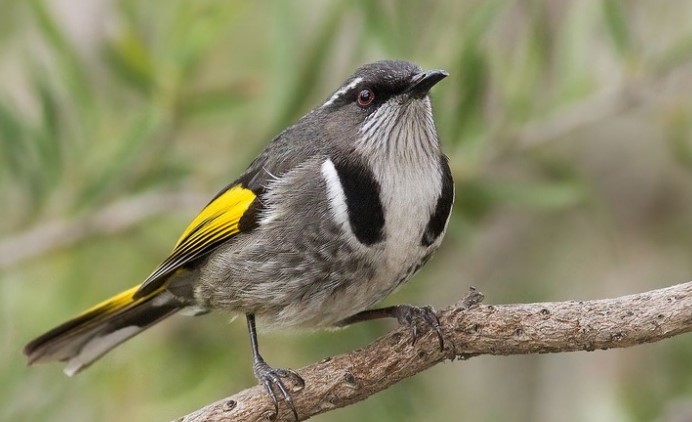 Insects that suck sap provide food in the form of manna and honeydew. The birds glean these among the foliage and under the bark on the outer branches of rough-barked eucalypts. Honeyeaters catch insects less often and usually while in flight, picking them up from high perches on short flights. Breeding and nesting occur between July and January; sometimes between March and April. There is a cup-shaped nest made of bark strips and twigs lined with grass or other soft materials. Nests are usually placed within two meters of the ground in shrubs.
In terms of size, the males are about 150-160 mm long and the females are 130-140 mm long. Grey-black is the color of the male bird's head, back, wings, and tail. A broad yellow edge appears on the flight and tail feathers; the tail tip is white. The face is dark grey, with white eyebrows on the hindquarters.
White throat and center breast streaked gray; sides of the breast with black crescents, edged white; flanks and belly pale grey; undertail mottled grey and white. Red-brown eyes. Black is the color of the bill. Dark grey is the color of the feet. There is an indistinct crescent on the female bird, which is duller than the male bird. Males are darker; females are olive-brown; wing patches are dull olive-yellow. Immature birds look similar to adults but are duller and lack crescents.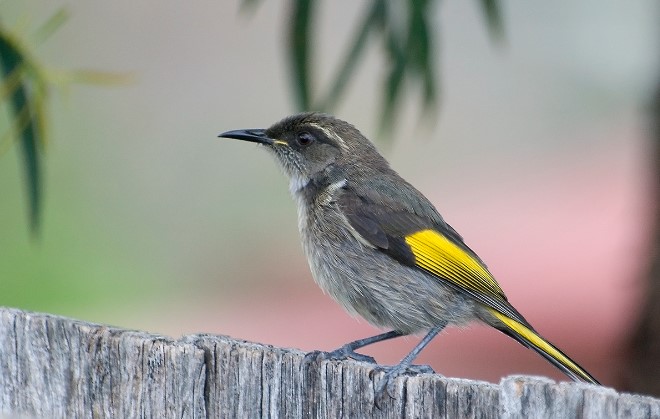 There is a soft contact sound in the call of Crescent Honeyeater. In contrast, Crescent Honeyeaters sing loudly, metallically, emphasizing the second syllable of ke-jilk (e-gypt), often accompanied by twittering. Throughout the year, the male sings a complex, variable song. It sings from a perch exposed to the elements and performs song flights during the breeding season. Females do not appear to have a distinct song-flight, but males defend feeding territories with loud e-gypt calls.
The Crescent Honeyeater lays two to three, rarely four, pale pink eggs with bold red and brown spots. About 19 x 15 mm in size, the eggs have a swollen oval shape. Approximately two weeks are needed for females to incubate. In about 13-14 days, the young fledge.
In wet sclerophyll forests along coasts and mountains to the southeast of South Australia, the Crescent Honeyeater occurs just south of Newcastle, NSW. Some populations are isolated in the Mt Lofty Ranges, Kangaroo Island, King and Flinders Islands, and Tasmania. There are currently two races. Snakes, kookaburras, currawongs, or cats can take nestlings by using a variety of anti-predator strategies.
There are a number of threats facing crescent honeyeaters, but their population numbers and range make them of Least Concern for conservation. Birds that migrate to urban areas are also at greater risk of accidents and predation.
Related Reading: Spiny-cheeked Honeyeater – A Bird Like No Other