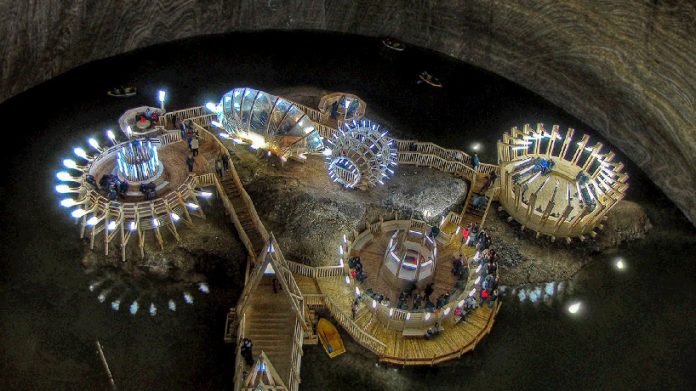 Salina Turda Salt Mines Transform to History Museum. What was once a massive salt mine in turda, Romania, has now been cautiously renovated by the regional cluj county council into the world's first salt mining history museum. the salina turda salt mines were excavated in the 17th century, proving a vital source of salt that brought the Romans much wealth. Nowadays, the durgau lakes at the mine's surface responsible for much of the salt deposits in the area are well-liked tourist attractions that guarantee a firm flow of visitors all year round.
A trip down the vertical shafts that once transported 1000's tons of salt will gradually let slip the immense scale of the excavated earth, made deliberately clear upon reaching the very bottom of the mine which is covered in a sand-like layer of salt, nearly borrowing a certain aesthetic from the deep sea, the bottom of the mine features almost alien structures made of timber members and illuminated with suspended tube lights.
The interior maintains a steady 11-12 degrees celsius and 80 % humidity, fully devoid of any allergens and almost absence of any bacteria, making the exclusive micro-climate a destination for those suffering from allergic respiratory diseases.