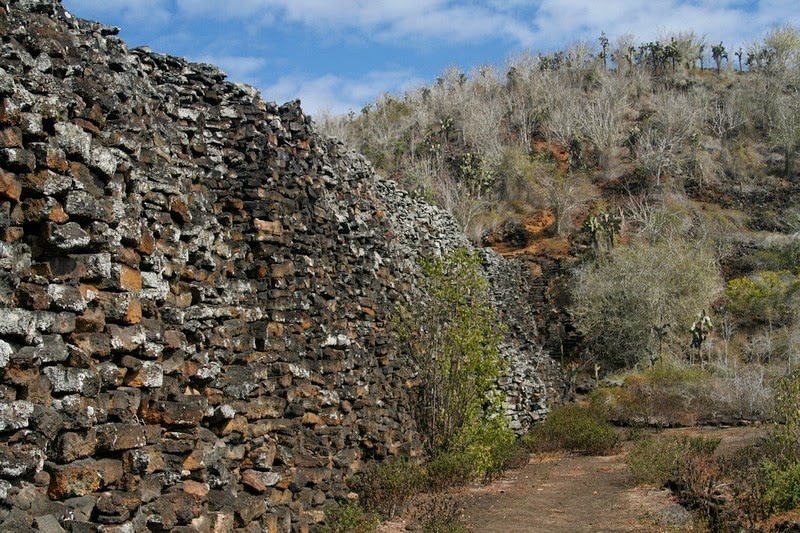 The Wall of Tears is an historical site just five kilometers west of Puerto Villamil on Isabela Island in the Galapagos Islands, Ecuador. A penal colony existed on Isabela from 1944 to 1959 and the penal colony was marked by abuse, and considered prisoners as slaves. One of the tasks entrusted to the prisoners, so they would have to do something.
The wall construction was with volcanic stones, and Prisoners had to carry heavy stones from several kilometers. On this tour and during the construction of the wall, many fell due to insolation and lack of food. Moreover, many lives' lost because the wall collapsed, and many prisoners were buried in makeshift graves along the way.
The result of this construction is what nowadays is famous as the Wall of Tears. The wall is said to have been the cause of thousands of deaths during its construction, call it the wall of tears because it is said to emanate eerie cries and have a heavy energy surrounding it.
Isabela worked as a US military base but after the end of World War II, the forces withdrew. Therefore, the Ecuadorian government decided to use the, by then, remote island to take the most treacherous prisoners in the country and found what they called a penal colony.
Thus the facilities abandoned by soldiers of the United States for that "prison" were used. But the horror of the story begins 1946 when it was decided, as a sentence, that criminals pay their verdict with hard labor. The Wall of Tears never finished being constructed , it really did not have greatly purpose being nothing more than to cause misery to hold prisoners in an activity, and it is an irresistible formation of about 100 meters long, 3 meters wide and 5-6 m high, which is now a site to visit the island Isabela.
Thus, definitely the history of the penal colony of Isabela and the Wall of Tears is not the gladdest history of the islands. The Wall of Tears, named for the suffering and pain of their builders, still stands all alone on Isabela Island, blocking nothing from anything and complementary each day with the beautiful landscape that grows around it.
Peoples can actually walk up to the top of the wall and get an idea of how high it is and how easy it would have been to fall off with a little wooziness from the tropical sun. The penal colony on the island is long gone, but the memory of the cruelty inflicted their lives on.
Also Read: