Are you proud of your weight loss journey? Now is the time to share your success story and win amazing prizes with Lasta's Weight Loss Success Stories Challenge! Starting May 1st, Lasta will be accepting entries from all individuals who want to inspire others while having the chance to win cash and premium subscription prizes.
The challenge is open to anyone who has achieved a weight-loss milestone and wants to share their unique story.
All you need to do is submit your story via email at support@lasta.app or share it as a post or story on Instagram and tag us so we can see it. Make sure to include any photos or videos that help to illustrate your journey.
Not only will you have the chance to inspire others with your story, but we're also giving away some fantastic prizes for our top three winners.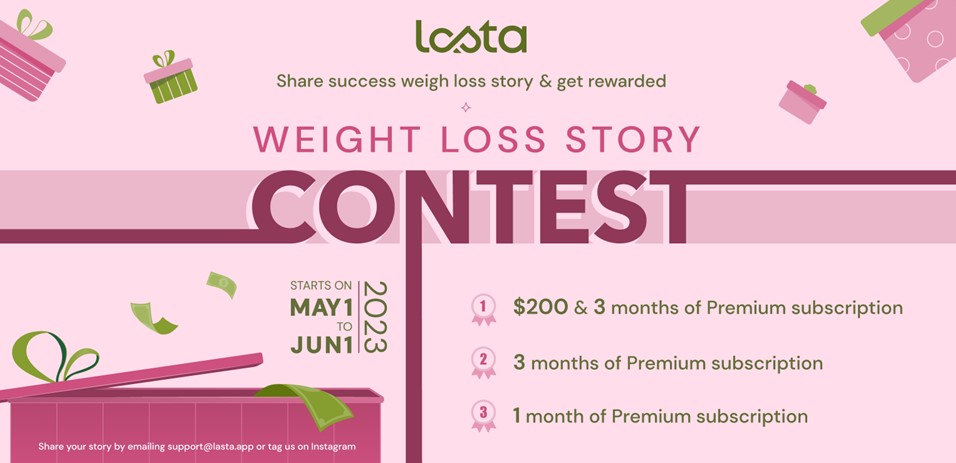 The 1 place winner will receive a $200 cash prize plus a three-month premium subscription

The 2 place will receive a three-month premium subscription,

The 3 place will receive one month of premium subscription.
"We are thrilled to launch this contest," said Lasta CEO. "It's an incredible opportunity for individuals to share their inspiring stories with the world and possibly win amazing prizes."
Lasta is a leading weight loss app specializing in promoting sustainable weight loss. Its focus on safety and achieving long-term outcomes is essential to any effective weight loss program. By encouraging a positive mindset and demonstrating healthy, lasting weight loss methods, Lasta is widely considered the top weight loss app in 2023.
This contest is not only about winning prizes – it's also about celebrating each other's successes, no matter how small they may seem.
So don't miss out on this unique opportunity – enter now before June 1st!
Achieve your weight loss goals and be rewarded with cash prizes & premium subscription

Showcase your success story to inspire others on their journey toward a healthier lifestyle

Learn expert tips and strategies from our panel of nutritionists and health experts

Win exciting rewards for every step you take towards a healthier life.