Do you know, what is needed to maintain love? Well, love requires exorbitant hard work, strong commitment, and robust efforts. People need to keep showing each other love, be kind and forgiving, and be willing to compromise. Communication, trust, and understanding are key to maintaining a healthy relationship. The requisites for love maintenance are!
(1) Involvement in another's welfare
(2) Loyalty
(3) Acceptance of another with all his faults and virtues without condoning the faults of the other. This is done by taking delight in him, not in what he ought to be but in what he is.
(4) A willingness not only to put oneself in the other's place but also a desire to improve and make that place as happy as possible.
(5) Communication and Trust
One of the things not necessary for love is sex. It is necessary to emphasize this point because love, especially in marriage, is incompatible with unsatisfactory sexual relations. This is another example of confusion between love and sex. Many married couples discover that although sex may be critical in marriage, it has very little to do with love or the maintenance of a loving relationship with anyone.
Those who have married solely for sex have not done so for love—even though they may mistakenly call love and sex by the same name and believe they are the same thing. These people are likely to fall out of love when sex wanes or becomes unsatisfying. Sex may enrich a relationship, but it is not indispensable for maintaining a loving relationship.
Is the second or later love as strong as the "first real love?"
How lucky, on the whole, for those concerned that "first real love" did not result in marriage! One's "first real love" being one's "first significant love" may well have made a deeper impression than anything similar experienced before or since.
But this is not to say that every "first love" is like that, or that having left such a lasting impression it is necessarily any deeper or more authentic than later love. One's "first real love" is usually immature, violent, and consuming, and it may take a long time to recover from it. Later love is seldom as strong as one's "first real love," and that is an advantage, for the function of one's "first real love" steadies the individual for a more balanced approach to subsequent, more mature, and more comprehensive love.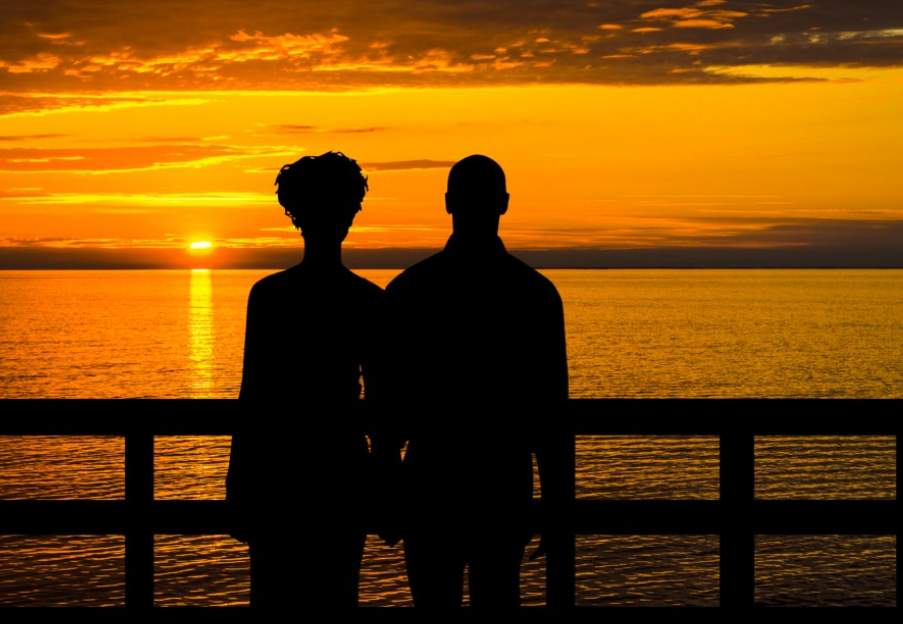 What are love's psychological and physiological characteristics?
Love has varying psychological characteristics. In general, all of them are characterized by feelings of deep interest in and affection for the person or object loved. Love involves changes in the nervous, glandular, and muscular systems. It has been remarked from time immemorial that a person in love simply "glows," "blooms," and "has never been so vital, healthy, or happy."
All observation confirms this, as well as the fact that rejected love does the opposite and can lead to a "broken heart." The latter expression is not a mere metaphor, for it is based on common human experience. The physiological states resulting from rejected or unrequited love may actually lead to shock and circulatory disturbances that may not only be felt as cardiac discomfort but may even contribute to cardiac failure.
Love, of whatever intensity or duration, is a happy feeling state. Those who are, for example, more or less constantly in love with life, whether they are consciously so or not, are likely to be the happiest people. Such a feeling state keeps them physiologically and psychologically healthy.
What causes one to love an idea, object, or thing rather than hate it or dislike it?
We love deep and meaningful pleasures-persons, objects, or ideas. In spite of this, what elicits profound and meaningful pleasure depends on each individual's background, education, and experiences. For example, an individual who evokes dislike in one person may elicit interest and affection in another. Eventually, love responds to what he perceives as a need for love. It gives him pleasure to recognize that need and minister to it. How does spiritual love develop?
Does "love of mankind," "love of nature," or "love of God" satisfy a need? Can one live a healthy life without feeling spiritual love} Spiritual love can be devoted to ideas, objects, persons, events, or deities. Love is the essence of being directed toward its object. It is love from which every element of the material and utilitarian has been removed. In this love, the dominant motivations are harmonious, supplicatory, sacrifice-oriented, and compassionate.
Love of a country, for example, comprises all these elements, and so does love of mankind, nature, and God. The ability to experience spiritual love is developed in much the same way as every other form of love. This is namely, by training, and training by example rather than by precept, and more at home than at Sunday school. Man grows beyond himself as an agent of spiritual love. The necessity of spiritual love is as deep a need in him as nourishment. "Man do not live on bread alone."
Man needs to love mankind just as mankind needs to love man. Whether we subscribe to the belief that "God is love" or that "Love is God" will not matter very greatly, so long as we act upon the understanding that man's love must extend beyond himself to embrace the world outside himself. Without such a projection of love, one cannot live a healthy life, because health implies a balanced satisfaction of needs, and one of the profound needs is the need to transcend oneself and relate creatively to the universe, and as far as it is reasonably possible, to everything within it.
Can love be destructive to oneself or others?
Mind it, genuine love can never destroy oneself or others. It is one thing in the world that cannot be given too much. There are in the world so many forms of spurious or counterfeit love—of unloving love, of heartlessness behind the show of love— but these are often the false faces and disguises worn by hostility or indifference. Love that is true is enlarging, creative, supportive, and warm at the same time. It can only build and destroy.
Is some form of self-love necessary for optimum mental health? Can self-love lead to mental disorders?
 Self-love is necessary for optimum mental health. Anyone's care begins with caring for himself, and this applies to oneself and others. An individual who had no love for himself would be in a very unhappy place. People have lovable qualities. Most people can recognize lovable qualities in themselves, even if few others can, and approve of themselves for those qualities.
But the person who feels that he has no qualities to approve of, and who dislikes or tends to be indifferent to himself, becomes alienated from that response in himself that should most closely bind him to others—the ability to cherish. The individual who does not love himself will, generally, be unable to love others.
Genuine love of self can contribute to optimum mental health, but an abnormal concentration of interest in and affection for oneself can certainly lead to mental disorders. There must be a balance between self-love and others. To the degree that a person fails in one, he will struggle in the other. To the extent that he fails, he has a mental disorder.