Habitats: There is a relatively large white cockatoo known as the Sulphur-crested Cockatoo, and it can be found throughout Australia, New Guinea, and on some of the Indonesian islands in wooded habitats. There are many forests and farmlands in eastern and northern Australia where you can hear this bird's discordant sound and it has become a familiar sound. Despite being highly intelligent birds, they can be quite demanding in their care, which is why they are well-known in the aviculture world.
There are many zoos and aviaries in other countries that keep this bird, and it is commonly found in them. A lot of people also keep them as pets. The birds in north-eastern Australia, regardless of what time of year it is, normally form pairs or small parties, but in south-eastern Australia, the birds tend to congregate in large groups outside of the breeding season. In every long-established part of the world where they live in open country, they have a well-established system of sentinel warnings.
A few birds perch quietly in trees where they can watch the flock on the ground and scream loudly when an intruder approaches while the main flock is feeding on the ground. There is an immediate rise in the altitude of the entire flock. Although the cockatoos have to travel a long distance to reach their feeding grounds, the flocks rarely abandon their roosting sites, and there are roosting sites for every flock.
Behavior: There is a deafening sound as dusk falls in the roosting trees, as the birds jostle for positions and fight with one another, and it will take long after sunset before the screeching subsides as the birds squabble with one another for supremacy. As soon as the sun rises, the birds start to fly off to feed, and soon after the noise begins again.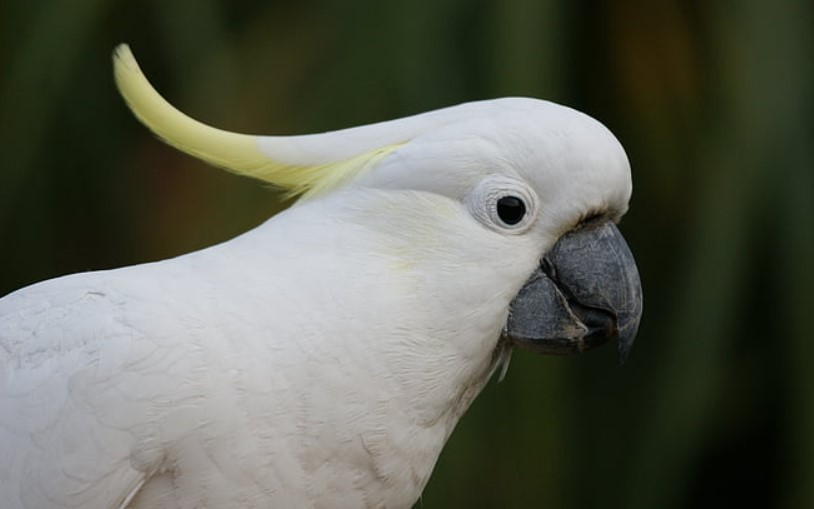 As they fly to or from their roosting sites, they fly at considerable heights, displaying a characteristically staccato flap-flap-glide action when going to or coming from the roosting site. Cockatoos usually eat seeds on the ground until mid-morning, then after that they sit in trees near the feeding area, stripping the leaves and bark of those trees during the hottest part of the day. During the afternoon, they feed again and then return to the roosting trees to spend the night there. Until the food supply is exhausted, they return to the same area to feed each day until there is no more food available.
Grass and herbaceous plants, as well as grains, bulbous roots, berries, nuts, and buds of leaves, are among the foods they eat, which often results in substantial damage to crops, most notably oats and maize. As a result of this destruction, they compensate to some extent by eating the seeds of weeds in order to compensate for that. Insects and their larvae are also eaten by them as well. Some people shoot or poison them as pests in order to get rid of them.
The Australian Commonwealth Law protects the birds from being killed as a protected species, therefore any culling without a government permit is illegal. They have learned that garbage bins in Sydney, Australia are a source of food and, as a result, they have been able to open them to get food.  This behavior is passed from bird to bird through imitation. The most unique moves that some of these animals perform spontaneously when they are kept in captivity are those that dance to music.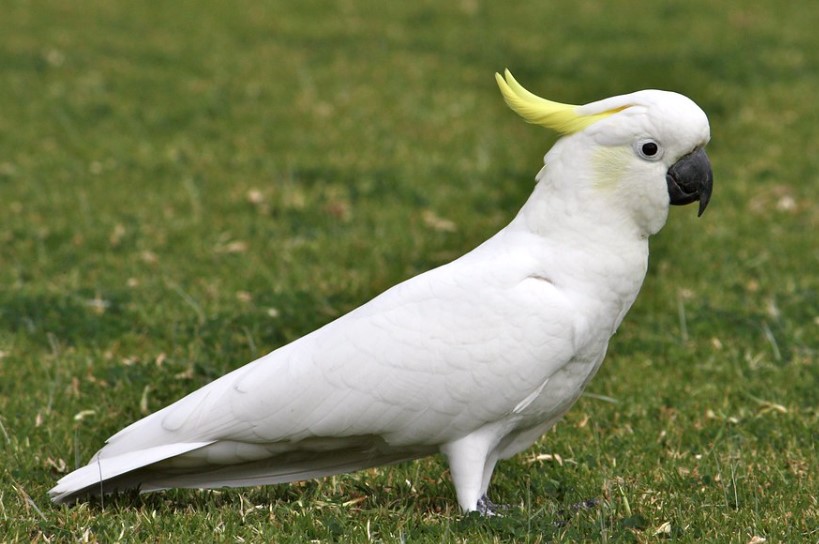 Other Name: This is also known as White Cockatoo.
Size: The size of a Sulphur-crested Cockatoo is about 450-500 mm in length, including a broad, square tail.
Identification: Captive sulphur-crested cockatoos are easily confused with yellow-crested cockatoos or blue-eyed cockatoos with darker eye rings and crest shapes. Adults: There is no difference between the sexes. As the general plumage of the bird is white. Yellow crest; yellow ear coverts; yellow cheek and throat feather bases; yellow underside of flight and tail feathers. The naked eye-ring is white or tinged with blue. The eyes are dark brown. The bill is grey-black in color. The toes and feet are dark greys; the claws are darker.
Immatures: The same as adults. The crown, back, and wings of young birds have faint gray tinges; the eyes are paler brown. Downy Young: Fine, yellow-downed.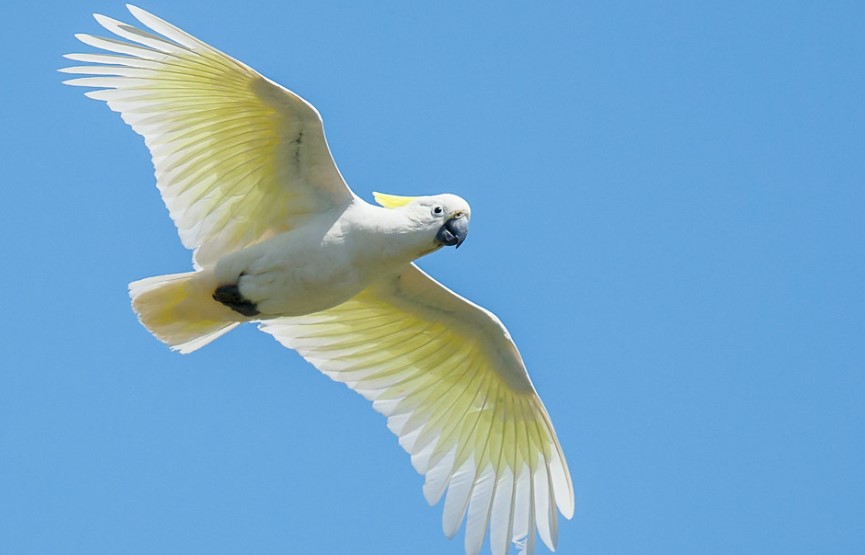 Sound and Call: The contact call of the Sulphur-crested Cockatoo in flight is characterized by a loud, harsh, raucous screech that ends with a slight upward inflection. The alarm call consisted of a series of guttural screams that were abrupt and repeated. A shrill two-syllable whistle or a shrill squawk is occasionally heard during feeding and preening. In order to travel through the forest environments in which they live, including the tropical and subtropical rainforests in which they live, sulfur-crested cockatoos produce a distinctive raucous call that can be very loud. This is a result of an adaptation they have developed to traverse the forests in which they live.
Lifespan: They live approximately 20 to 40 years in the wild, but can live upwards of 70 years in captivity. It has been reported that they can detoxify their food by eating clay through geophagy. Many birds use oil to waterproof themselves, but these birds use powder instead.
Nest and Breeds: In the south, nesting, and breeding tends to take place from August to January; and in the north, it takes place from May to September. Nests are usually built in a hollow limb or hole in a tree, usually high up in a eucalypt tree near water, but nests found along the lower Murray River can also be found in holes in cliffs.
Eggs: The white charming cockatoo lays two eggs, rarely three eggs; these white eggs are ellipsoidal in shape and measure 45-47 x 32-34 mm in size. It takes about 30 days for both sexes to complete the incubation process. The chicks remain in the nest for about six weeks after they are born. Nests are entered head first by adults.
Distribution: The Sulphur-crested Cockatoo is widely distributed and common in most types of open-timbered countries and can be found throughout northern, eastern, and southeastern parts of the mainland, Tasmania, and some offshore islands, including Kangaroo Island. It is also found in New Guinea, New Britain, and the Aru Islands in Indonesia.
In addition to the Perth area, WA, cockatoos have also been introduced to some islands in the southwestern Pacific. Among the Australian races, there is only one race, which varies in size from smaller with heavier bills and a shorter crest in the north, to larger with smaller bills and a longer crest in the east, to smaller again in the extreme south in South Australia. Singapore is one of the countries where the white cockatoo has been introduced.
The number of these birds is estimated to be between 800 and 2000. Besides Palau, they have also been introduced to New Zealand, and it is estimated that there may only be a few thousand of them left on earth. It has also been reported that this species has also established itself in Hawaii and on various islands in Wallacea (e.g. Kai Islands and Ambon), however, it is unclear if it has been able to establish itself in these areas.
Subspecies:  There are four recognized subspecies:
Triton cockatoo (C. g. triton)- This species is normally found in New Guinea and the surrounding islands.

Eleonora cockatoo (C. g. eleonora). This species is restricted to the Aru Islands in the Maluku province of eastern Indonesia

Mathews cockatoo (C. g. fitzroyi). This species is normally found in northern Australia from West Australia to the Gulf of Carpentaria

Greater sulphur-crested cockatoo (C. g. galerita). This species is found from Cape York to Tasmania.

There are four recognized subspecies. Source
Scientific classification
Binomial name: Cacatua galerita

Kingdom: Animalia

Phylum: Chordata

Genus: Cacatua

Class: Aves

Order: Psittaciformes

Family: Cacatuidae

Subgenus: Cacatua

Species: C. galerita

Status: Least Concern

There is a relatively large white cockatoo known as the Sulphur-crested Cockatoo, and it can be found throughout Australia, New Guinea, and on some of the Indonesian islands in wooded habitats. Photo Credit – patrickkavanagh