A lot of interesting products have emerged out of Kickstarter, and Magnapot is one of the latest to join their ranks. Magnapot is an innovative planter that doubles as an organizer, and according to the creators, it is only as limited as your own creativity. The eye-catching products captivate your mind like a miniature art piece on your desk and leave no space for mess. The majestic Magnapot is the deluxe desk organizer you've always wanted in your life!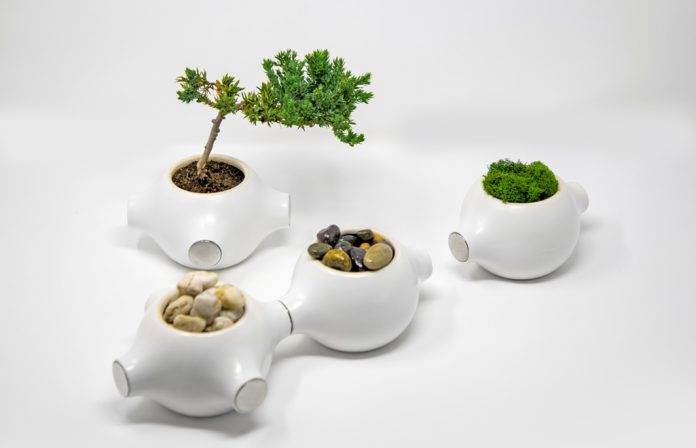 First and foremost a modular garden, Magnapot can also serve as a stand for all sorts of clutter. From stationery to makeup products to art supplies, all your little items will look extremely clean and organized next to a cute little plant.
The strong neodymium magnets enable you to mix and match your Magnapots however you like with zero hassle. According to CREO, a design company based in San Francisco and the team behind Magnapot, even more designs are on the way. The designs look pretty interesting and fun, too!
Magnapot can be used to grow all sorts of small apartments, and the wick-integrated insert pots will take care of the hard part and infuse your plants with life. With Magnapot, you can watch the journey of a small sprout to full growth, and do it with style.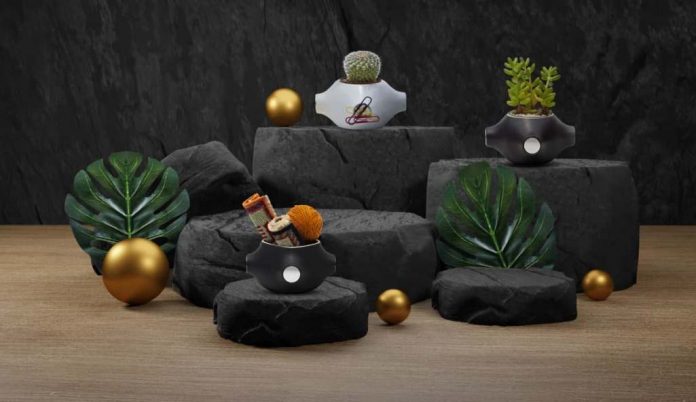 Magnapot comes in two stylish colors – Classic White and Carbon Grey with semi-matte glaze. These colors are bound to look absolutely stunning on any desk. Each set contains four Magnapots, two with four-tipped magnets and two with two-tipped Magnets.
If you are a makeup guru looking for a modern organizer for all your favorite products and brushes, or if you're an artist with a lot of tools, or if you're simply looking for a chic and luxurious desk organizer for your office, then you should probably consider getting yourself a set of Magnapot while it's on discount, especially since they're selling like hotcakes on Kickstarter! The limited super early bird set is priced at $59, and the early bird set is $79. You can also buy 2 or 3 sets for a higher discount.
If you're still not sure whether this product is for you or not, then think of it like this. You can probably get a set of Magnapot and gift it to your friends and loved ones on the next occasion. Even small kids (or big artists!) can draw on Magnapots and have some fun. After all, what could be better than a modern planter/desk organizer? A personalized one!
If you want to order your Magnapots, or if you're just looking for more information, then visit the Kickstarter campaign here: