Habitat: Like most Goshawks, the Brown Goshawk (Accipiter fasciatus) is a skulking predator that hunts by stealth. As it silently and secretly moves from tree to tree, it lands briefly within the cover to assess the situation, then takes off sharply or dives sharply on its prey in a quick and silent manner.
Although they appear solitary, Brown Goshawks are fairly prevalent throughout their habitat, including open eucalypt woodlands and tree-lined watercourses on the inland side of the continent. It is rare for them to move out of cover onto an open grass plain or heath. It is common for established pairs to breed in the same area year after year and often in the same nest as well.
During winter, young birds searching for territory migrate far north, even to the far north of Australia. In the past, banded goshawks have traveled 900 kilometers the farthest distance recorded. Birds of smaller species seek cover when they see a brown goshawk, while larger species such as ravens, crows, and magpies attack it aggressively until it leaves. Eucalypt forests, woodlands, farmland, and urban areas are the most common habitats in Australia. Rainforests are its main habitat in the Pacific.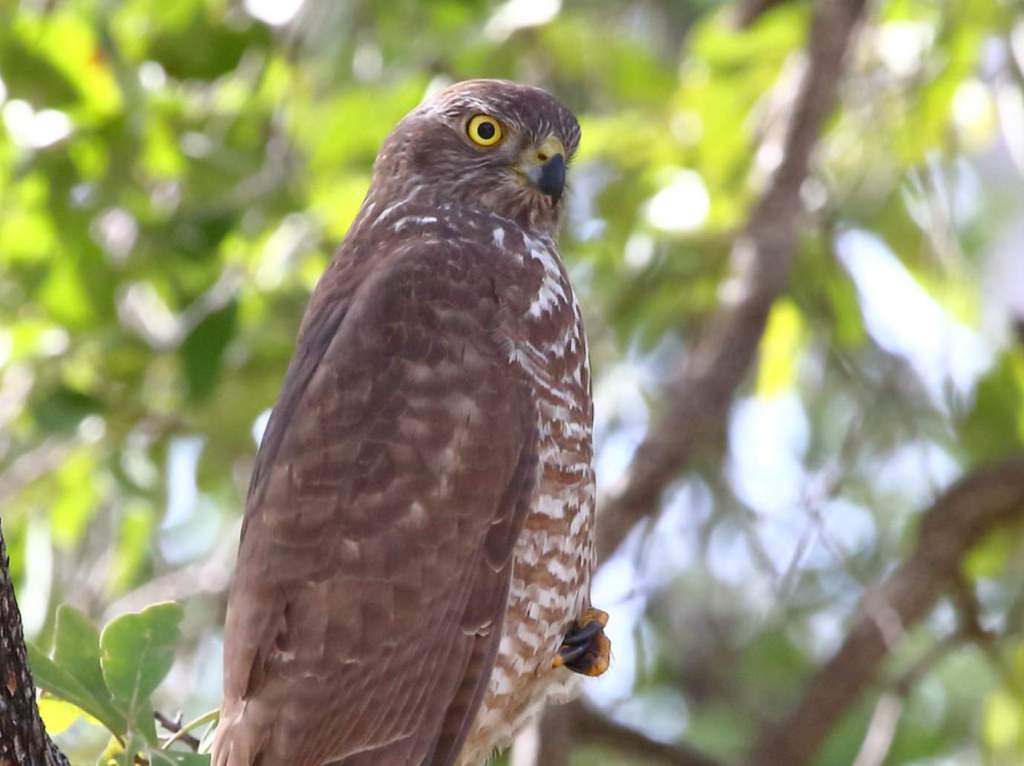 Diet: There is a wide variety of prey, ranging from wrens to domestic fowl, to mammals up to the size of a rabbit, reptiles, frogs, and large insects. However, that doesn't stop the goshawk from occasionally pursuing flying birds.
It is common for them to hunt at dusk when they are settling down for the night. Still-hunting, in which goshawks wait on hidden perches until prey comes within striking distance, and flying through the undergrowth to flush out small prey are two techniques that are used to catch prey. Rarely, goshawks will stoop on prey from above or chase small mammals on foot.
Vocals: Most of the time, the Brown Goshawk is silent, but it utters shrill chatter when approached, when defending its nest, or when upset or excited. It may utter si-si-si-si or kek-kek-kek from a female and wit from a male. Also slow, repeated swee, swee swit, seep, or sceep.
Identification: Both sexes are similar. The upper parts are grey-brown, occasionally tinged blue, especially on the head; the sides of the face are paler. Rufous collar around neck Tail brown finely barred with darker brown, round-tipped. Throat pale grey flecked with white. Underparts are finely barred cream and pale to rich russet.
Thighs have a rufous tinge with subtle barring. Eye and naked eye-ring yellow. Bill blue-grey with a darker tip; cere green-yellow. The feet are yellow; the claws are black. The immature bird's upper parts are mottled and off-white; shoulders dark, feathers edged rufous. The throat and upper breast are white with broad brown streaks.
The rest of the underparts are coarsely barred cream and dark chestnut-brown. Eyes change from brown to yellow between 75 days and three months; eye-ring is yellow-green. The bill is blue-grey with a darker tip; the cere is blue-grey.
Second-year plumage, kept for about a year, differs from adults in that the head is slightly darker, the collar is absent or tinged grey; bars on underparts are darker and broader; throat and breast have a blue-grey suffusion; tail bars are more pronounced. The downy young is creamy white, dark; cere, and feels pale blue.
Nest & Breed: Nesting and breeding take place between August and January. Nest up to 70 cm in diameter and 30 cm deep, made of sticks and twigs, lined with green leaves; usually in horizontal fork between 7 and 31 meters high. In the weeks leading up to breeding, mated pairs re-establish their territory aggressively, calling loudly and flying in display patterns to considerable heights, where they circle in unison and dive and chase each other.
It is not uncommon for nests to be a kilometer apart if food is abundant. The structure is built by both sexes, men and women working their way through the materials they have gathered. Upon completion of construction, the nest is re-lined each morning with fresh leaves until the young have reached adulthood.
Most mornings, the female shoulders the bulk of incubation and brooding while her mate relieves her for an hour or so as she hunts or feeds on prey brought by the male. In most cases, the male hunts for the brood and gives his catches to the female near the nest.
As she distributes them evenly among the chicks, she carries them. Females brood the young until they are about 15-16 days old and continue to feed them for about another week. They learn to feed themselves after that, but they are still dependent on their parents for food for at least three weeks after fledging.
Eggs & Incubation: In the brown goshawk, one to five eggs are laid at intervals of two to four days; they are smooth, matt white or blue-tinged, sparingly flecked with red-brown, dark brown, or lavender, and they are oval in shape and about 46 x 37 mm in size. Mostly females incubate the eggs, starting from the second egg after hatching. It takes four to five weeks for the young to fledged.
Flight: Low and slow flight is usually characterized by quick wing-beats and long, flat glides. The goshawks sometimes soar in circles above the trees.
Alternative Names: It is also known as the Australian Goshawk and Chicken Hawk.
Size: Males of southern forms 400-430 mm; females 470-560 mm. Males of northern forms 370-400 mm; females 430-460 mm.
Distribution: In a wide range of woodlands and open forests throughout Australia, but especially along tree-lined watercourses and water holes. The pale northern race Accipiter fasciatus didimus appears to be sedentary and restricted to subcoastal northern Australia. Larger southern forms A. f. fasciatus and rufous A. f. cruentus in southern Western Australia.
These forms are mostly found south of the Tropic of Capricorn during August-January but are nomadic migratory, and immature scattered throughout the northern range in the winter months. Also in Papua New Guinea, Vanuatu, Fiji, Lesser Sundas, and New Caledonia-New Hebrides there, are another 9 to 10 races.
Family: The brown goshawk belongs to the family Accipitridae in the order Accipitriformes.
Kingdom: Animalia
Phylum: Chordata