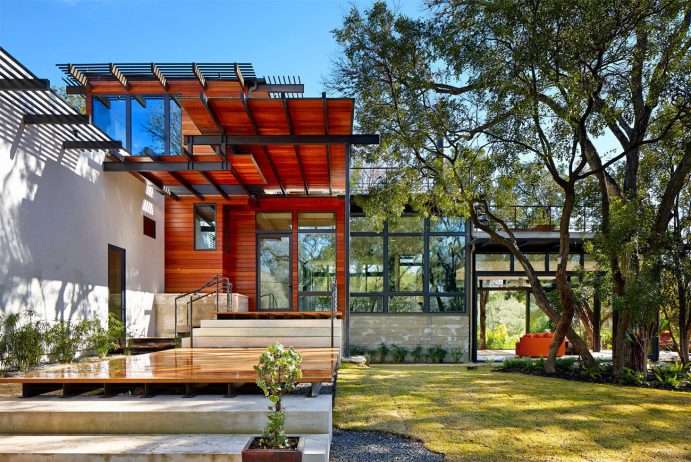 Just imagine living in a 4,000 square foot open home with your family how'd you spend your first week here? There're a few things you need to see about the contemporary home known as the Green Lantern Residence. It occupies a corner area in Alamo Heights, an affluent neighborhood of San Antonio, Texas. The home is designed by San Antonio-based studio John Grable Architects, actually showing an open nature and embracing the natural surroundings in both shape and concept. The home kept some of its original floor-plan, because the single story bedroom portions of the original 1948 ranch style home remained and were encapsulated with new one and two story public space additions.
John has carefully selected their design weapons, offering the family their visually striking private heaven. At the ground floor changes in level, stepping up over the pool along the main entry bridge and back down again from the kitchen to the living area, provide a playful dialogue and transition between public spaces, even as a largely open floor plan and substantial windows act to connect these spaces to each other and the outdoors. Moreover, wall-to-wall sliding doors in the living area open up to expand the room out into the pool and landscape that provides additional outdoor space for entertaining and gathering of friends and loved ones.
Moreover; the entry bridge spanning the pool enlivens these outdoor spaces with a grotto waterfall niche that compliments the cool shade of the heritage trees that reside throughout the yard. This rhythm is mirrored at the second floor as a series of folding doors in the 'party room' open to a large out-door terrace in the tree canopies, which again steps down to its own "landscape" green roof garden with beautiful hot tub that takes in distance vistas of downtown. Therefore incorporating sustainable systems similar photovoltaic panels, a green roof system, grey-water harvesting and LED lighting, the home was built with reverence for natural design.
The new construction was designed to re-use the existing foundation, and wood from the preceding structure was recycled and re-used. Passive systems i.e. arbors and overhang structures were implemented to form shading and decrease solar gain, though the complete project was sited to protect the number of existing heritage oak trees establish throughout the site during construction. It seems perfect for entertaining, living a relaxed & joyful family life and enjoying a healthy, sustainable approach to urban living, this green-certified home fold the most important home sustainability issues into an elegant, eco-friendly family home.
Source: Freshome