Amguid Crater is a meteorite crater located in the inaccessible region of southwestern Algeria,  The crater is roughly 65 meters deep and around 500 to 530 meters in diameter (measured with Google Earth). Amguid Crater is approximately 100,000 years old and is maybe Pleistocene. However, more research is required to identify the exact age. In 1948, this crater was unearthed by a few Europeans.
However, in 1969 the first scientific description was given by French geologist Jean-Phillippe Lefranc, who reached it with a lot of effort and positive energy. Roman Karpoff a French explorer noticed the possible impact of the crater from a plane in 1948.
Amguid Crater is one of the hardest impact craters on earth and hardest to access, more than 100miles from the nearest inhabited place. Due to rocky terrain, one cannot go on to a car. Many travelers believe this is one of the least visited places in the world. It is formed in Lower Devonian Sandstone in the Sahara.
The travelers reach them on foot passing the deep river valley often pools of water. This is an unbelievable area, with a lot of unexplored landmarks and undisturbed wildlife. A pre-Islamic tomb is situated nearly 13 km north of the Amguid crater. Which shows, people inhabited here sometimes.
Amguid crater structure is clearly shown, that this is an impact crater with perfect circular and steep walls. Nevertheless, with raised rims, it is covered with sandstone blocks often several meters in diameter. Amguid craters are partly filled with wind-blown sand, making them more difficult to identify the real depth of the crater below the layer of sand.
The middle part of the Amguid crater is a bit flat well covered with Aeolian silts. Therefore, these silts refract the light – and from space, it looks like the crater has a white area in the center. The rough route is inaccessible to any vehicle, but travelers passed plenty of mouflons, gazelle, Jackals, and fennec trails and once saw camel tracks other than our own.
Most travelers use to be part of the camel caravans to carry all their gear, foods and the crew draw water from natural waterholes or 'gueltas'. These guetas and daily grazing for the camels are very important to staging the trek. The cumbersome route follows canyons, dry valleys, sand dunes, and escarpments as well as old camel and game trails where present.
Moreover, along the way, one can cross Neolithic artifacts. Hence, if you want to see an Amguid crater, you have to be 100% fit in terms of health. Moreover, 

Willamette Meteorite

is another sixth largest in the world and largest in the United States. The Willamette Meteorite is an extra-terrestrial rock that is part of the permanent collection of the American Museum of Natural History.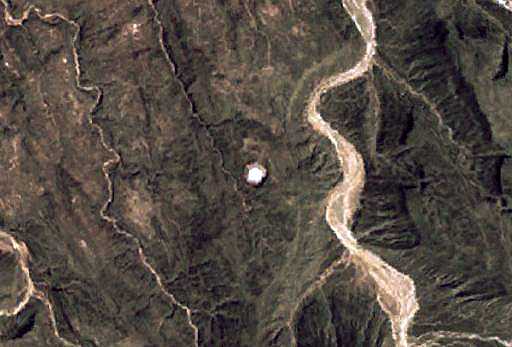 Product You May be Interested
Reference 1, 2