Patan Minara is an ancient Buddhist monastery in Rahim Yar Khan Pakistan. In the 2,000 years old monastery situated 8 KM from Rahim Yar Khan City, a single burnt sienna column remains. It is very little known information about single-column minara. However, it was believed to be built during the Hakrra valley civilization during the Mauryan period approximately 250BC. 
The archeologists believe the Patan Minara was built by Alexander the Great during his visit to the military expedition to Hind (India). The Pattan Minara means the "Tower on the Ford". It is named after Pattan Pur, once a lush green city situated on the bank of the River Ghagra, an offshoot of the River Indus.
Alexander the Great established a cantonment under Greek Governor. Therefore, The Patan Minara served for keeping a watchful eye on the local tribes. Some mystical stories are associated with the history of Patan Minara. Some believe that hidden treasure was buried under the tower. A Sanskrit written brick was discovered at the start of the 18th century when it was demolished. A fort, mosque, and tunnels still remain in that area. Some historians believe, Alexander also conquered the state and stayed in the ancient city.
Colonel Minchin the Ex-Bhawalpur the state passed an order to excavate the ruins of Patan Minara. He had heard that hidden treasure was buried in tunnels that were part of the Sienna column remains. Unfortunately, a worker came across a semi-liquid swarmed fly that killed him on the spot. So, the digging process was stopped due to this disaster. 
In the 18th century, Fazal Elahi Khan Halani the chief of Daupauta used its remains to build the Baghla & Dingar Forte. The local government even officially declared it a heritage site. The unplanned housing is creeping up in the surrounding area and the construction industry is for reti-bajri or sand around the ruins. The nomadic peoples are living life in the surrounding area mainly depends upon their stock lives of camel feed.
Although Pattan Minara has lost its prime, local people are trying to save this site by pledging to bring back coins they found. Maybe someone has already been discovered the hidden treasure, no one exactly knows. The sole remnant of the civilization and its remains is eroding with the passage of time, and it seems like it wouldn't stand in the future. However, in recent times some restoration and beautifying work is done by the local government. 
If the department of Archaeology and the government pay some attention to this minara, it can reveal it's true to discover the likes of another Harappa or Mohenjo Daro. If you are a photography lover then you should visit Patan Minara in the evening. It is the ideal time for photography when the sun is perfectly placed opposite of Minara.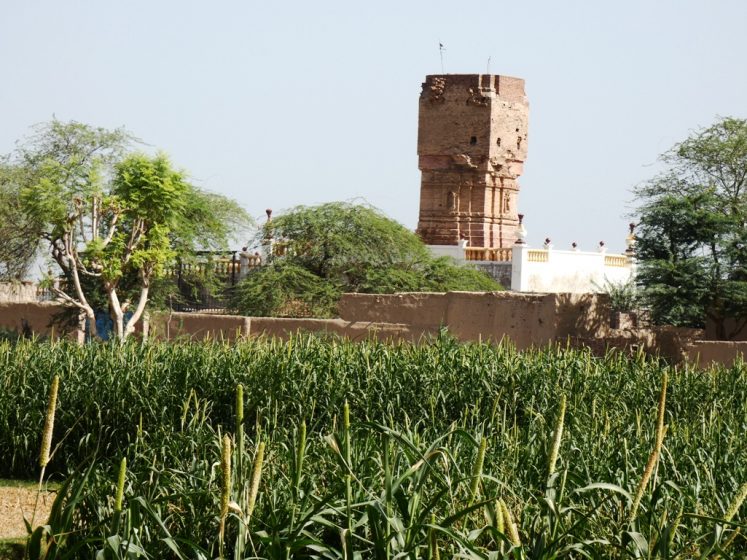 Read More 
Source: Tribune.PK / Wikipedia