One of Mexico's famous beaches, Love Beach, also known as Hidden Beach, Playa del Amor, or Love Cave, is located in a cave. The lush green island has a gaping hole that leads to a crystal-clear beach surrounded by shade and sunlight. At the mouth of Banderas Bay, near Puerto Vallarta, Mexico, Playa del Amor, or the Hidden Beach, is located on one of the Marieta Islands.
A magical wide sandy cavern with blue Pacific waters rushing in looks like something out of a fantasy world. The underwater volcanic eruptions formed the Marieta Islands, a group of uninhabited islands. This beautiful beach is nestled in a deep cave, surrounded by snow-white sands and clear turquoise ocean water and breezes.
There is a lot of mystery and inscrutability in the cave, which resembles an enormous crater on the cliff. Part of the beach area is shaded by the cave, which is also a kind of parasol. Despite being a natural wonder, the burrowed beach wasn't brought to light by volcanic activity. There is a rumor that bombs were used deliberately to create Hidden Beach.
Mexico has always used the Marieta Islands for military tests because they have never been populated. The Marieta Islands were used as a test site for weapons and artillery testing beginning in the early 1900s, a safe distance from Mexican citizens, but dangerous because of their topography.
The Hidden Beach may have been formed by test bombs, which may be the cause of many caves and rock formations on the island. Science explorer Jacques Cousteau protested against the harmful effects of human activity on these islands in the 1960s. It is only permitted to swim, kayak, sunbathe, and engage in other forms of recreation around the islands since they were named a national park in 2005, Parque Nacional Islas Marietas. UNESCO designated the park a MAB Biosphere Reserve later.
After decades of extensive military testing, the island's marine life and flora have been replenished by many years of peace. Seeing the sunset is a wonderful experience. It is a must-see beach. Hotel and restaurant facilities are not available on the beach territory, as all the amenities of civilization can be found in nearby Puerto Vallarta. Only a long water tunnel connects Hidden Beach to the Pacific Ocean, making it invisible from the outside.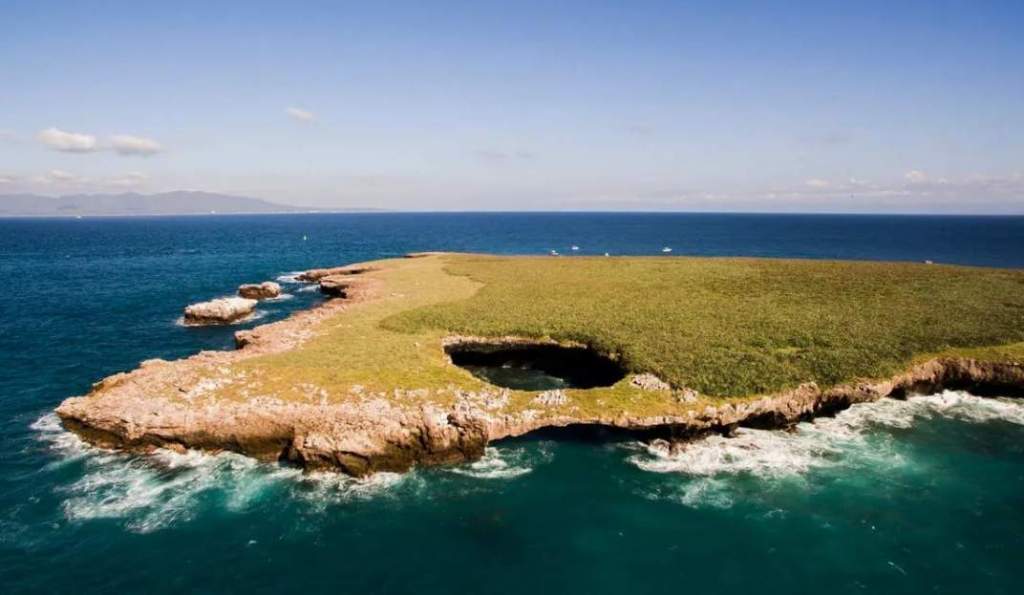 Swimmers and kayakers can reach the beach from approximately six feet above water level. In spite of the islands being uninhabited, tourists frequently visit them for the unique tropical paradise of Playa del Amor and the diverse marine wildlife that inhabits them. Located northwest of Puerto Vallarta, Mexico, the islands are reached by boat in about an hour. Off the Mexican coasts, heavy rains and tornadoes are common between May and October.
Therefore, November to March is the best month to visit the beach. In the high season, prices tend to be higher than usual. Day excursions to Hidden Beach are available from a number of tour companies. Limited wristbands are available for the "hidden beach" and need to be reserved ahead of time.
The trip can be arranged by several tour companies for about 1500 pesos each. If you don't want to go to the hidden beach, you can still take a tour for about 500 pesos without it. On May 9th, 2022, Playa del Amor was closed to tourism for coral restoration after being named one of the world's best beaches. There is a limit of 120 people per day who are allowed on the beach. Due to its exclusiveness, UNESCO declared the hidden beach a World Heritage Site in 2008.