The History of the Yaqui Tribe was the Native American language family's name was derived from the Yaqui River, along which they originally lived, pronounced "YAH-kee", and translated as "chief river" in the Uto-Aztecan dialect. It flows from the highlands of Sonora, a Mexican state, to the Gulf of California. There are also alternative names for Yaquis, such as Cahita, Yoeme, and Yueme. Yaquis relied on farming, hunting, fishing, and foraging for sustenance. Their lifestyle is similar to those of other North American Indians, who are classified with them in the South Western Culture Area.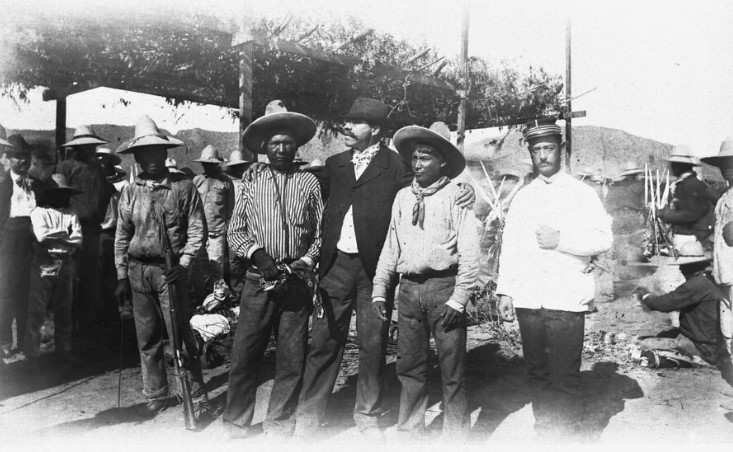 During the rainy season, they planted two times a year in the fertile soil next to the river and its tributaries. Corn and cotton were cultivated, and the latter was used to make clothing. The roofs of their rectangular structures were flat or gently sloping, made of poles, grass, mud, and reeds (or occasionally adobe bricks). A connected shelter provided a place for them to cook and perform other chores. Throughout the Spanish and Mexican periods, the Yaqui were fiercely independent. Their first contact with Spaniards occurred in 1533 when Nuo de Guzmán led an expedition into their territory. A force of some 4,000 Indian allies and 50 mounted soldiers attacked the Yaqui three times in 1609–10 but were repelled each time.
However, a peace treaty was signed between the Yaqui and Spain in 1610. They drew from Catholic rituals, but they never abandoned their tribal customs, and they considered themselves independent of Spanish authority. Soon after, the Jesuits established missions among them, creating the "Eight Towns." When Spanish settlers continued to press for Yaqui land, the Yaqui revolted in 1740. There was another rebellion in 1764. Spanish rule lasted until 1898 when the tenuous peace ended. The Mexican government began taxing Indians after gaining independence from Spain in 1821. It was the Yaquis' turn to resist interference once more.
During the next century, they staged a number of guerrilla uprisings. Despite being attacked by large Mexican armies, they proved unconquerable in their rugged homeland. Deportations to Yucatán, more than 2,000 miles away, began in the 1880s under the Mexican government. Despite all this, Yaqui's spirit remained unbroken. It took some of them a long time to escape and return to their homeland. There were some Yaqui who joined the forces of the bandit general Pancho Villa during the Mexican Revolution of 1910–11.
A second Yaqui uprising flared up in 1927. There was finally a lasting peace and permanent landholdings along the Yaqui River were granted to the Yaqui. Currently, descendants of these Yaqui still farm the fertile soil along their ancestral river much as their ancestors did. Many Yaqui fled across the international border to Arizona during this period of forced labor. Currently, the American Yaqui live at Eloy, Marana, Pascua, Scottsdale, Tempe, and Tucson, which are all located in southern Arizona. As a result of a federal grant granted in 1964 to the Pascua Yaqui Association, the tribe was recognized as a federally recognized tribe in 1978.
There was no restriction on enrollment in the tribe for all American Yaquis. Farming and construction are the main sources of income for American Yaquis. In the 1990s, the Pascua Yaqui Tribe generated income through high-stakes gambling and bingo. It also owns and operates Tucson's Anselmo Valencia Tori Amphitheater, a 4,470-seat open-air concert venue. There are strong cultural ties between Mexicans and American Yaquis. During Easter, they often celebrate a blending of Catholic and Native traditions known as Pascola. In masks and deer costumes, dancers perform before a doll representing the infant Jesus as drummers, rattles, and rasping sticks are played.