Varied Lorikeet (Psitteuteles versicolor) though nowhere abundant, ranges nomadically across the northern Australian woodlands in search of nectar flows from blossoming trees. There they converge in small groups to large flocks, scrambling about the foliage and clinging in all possible positions to the flowering sprays. This is the only species in the genus Psitteuteles.
Sometimes Varied Lorikeet chases one another from the preferred tree, bowing and hissing in threat. However, their favored nectar sources are eucalypts, paperbarks, and grevilleas, but the lorikeets also feed on pollen, fruits, seeds, and itinerant insects associated with blossom.
Like other lorikeets, they pair permanently and preen and groom one another at roost sites daily. They are also water-and foliage-bathe, sometimes dashing headlong into surface water. It is also known as the Red-capped Lorikeet with 190mm in length including a short, acute tail.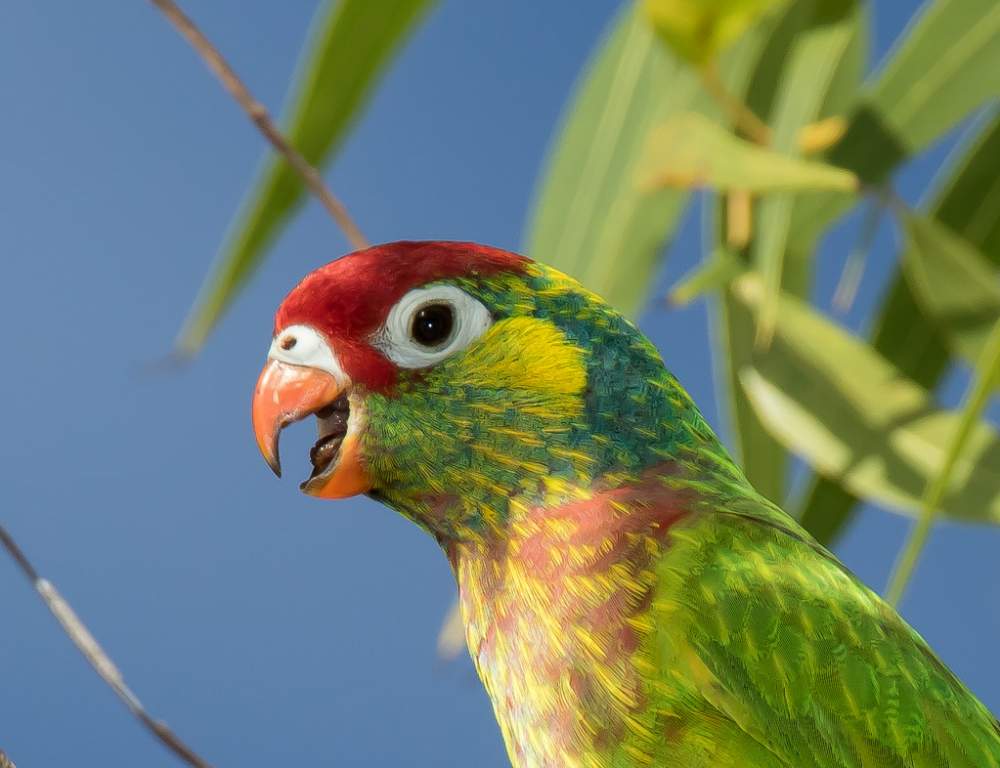 The male bird's forehead and crown are dark red; the ear coverts bright green-yellow and the upper parts, including wings and tail, are rich green. Throat and around nape dull green-blue with yellow shafts. Thus, the upper breast is dull mauve-pink with yellow feather shafts. The rest of the underparts are yellow-green with an underwing black and the naked eye-ring are white; with an eye yellow. Bill coral; and cere gray-white. Feet and toes deep grey; claws darker.
The Female varied lorikeet is similar to male but a little duller and slightly paler in all parts, predominantly the greens. However, the immature bird is like an adult female. Before post-fledging molt, only forehead band red; crown dull green with scattered red markings. The eyes are brown along with the brown bills and yellow marks.
The call of Varied Lorikeet is a thin, cricket-like contact screech in flight; shrill chatter while the bird is feeding. A soft Twitter while the bird is resting during the day: all higher in pitch than those of Rainbow Lorikeet. For roost, the lorikeet uses different horizontal branches.
The nesting and breeding seasons at all times of the year, but mostly start from April till August. Nest a hollow limb in a tree near water, prepared by both sexes and lined with wood chips and sometimes chewed leaves. Eggs: two to four; white; round, about 24 x 19 mm.
The incubation period is about 22-23 days, for females. Hence, the chick is fed by both parents, and he fledges in 5-6 weeks. Varied Lorikeet is found in denser woodlands of northern Australia east of the Great Dividing Range.