Best Family Holidays in Asia for Adventure Lovers
Being with your family is the best experience you can get in life when you return home after a taxing day at work. However, when you intend to make more memories and get the best experiences, you also need to think about planning family holidays that would help you all be together.
While there are many places globally where you can spend quality family time together, Asia can provide you with some memorable moments to make things special. You can find many countries in Asia that offer stunning scenery, diverse and vibrant cultures, and breathtaking adventure options that are ideal for adventure lovers.
If you don't have enough time at hand to make arrangements for your adventure trip to Asia, you can look for TransIndus holidays to Asia that would help you organize your trips so that you can focus on creating those quality moments with your loved ones.
Traversing the Tiger Territory in India
India has always been the land of mystical, vibrant, and diverse cultures, and that attracts most tourists around the world. It has the beautiful Taj Mahal, which is a major tourist attraction, but if you are thinking of adventure, traversing the Tiger Territory seems like the right thing to do.
India has 80% of the world's tiger population, and you can find some of the best tiger reserves here. You can choose family holidays that allow you to explore some of the top national parks and tigers reserves, like Jim Corbett National Park, Tadoba-Andhari National Reserve, Satpura Tiger Reserve, Pench National Park, and even Kaziranga National Park, where you can have close encounters with the top predators living in Indian jungles.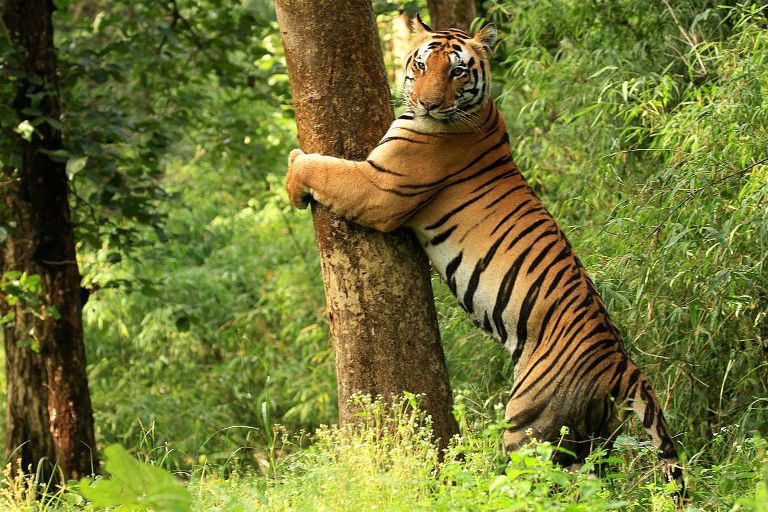 Trek the Monasteries of Nepal
Nepal is known as the Land of the Mountains. If you are visiting Nepal trekking is the best adventure activity you can do here with your family. If you are willing to push the limit, you can choose hard-core trekking packages. However, if you want an easy-paced trekking holiday, you can look out for options that allow you to trek the monasteries in Nepal.
This would allow you to get into the high valleys and walk through some remote settlements, quaint Buddhist villages, and ancient monasteries that lie in the shadows of the mighty Himalayas. You can trek to Namche Bazaar, which is also known as the Sherpa Capital. This would allow you to explore the local culture and traditions and meet locals who are willing to share their life experiences.
Cycling Through Rural Cambodia
If you are looking for some family tours that allow you to do some adventure, you can head to Cambodia, which can provide you with rustic old-world charm and make you feel like you are in an Indiana Jones movie. Angkor Wat is certainly the most visited place in Cambodia and a major tourist attraction.
However, when you are done exploring the architecture and the corridors of the temple, you can get on a bicycle, take the village trails, and head into the rural landscape. This would allow you to explore Cambodia like never before. You can also head to the Cardamom Mountains, which offer some of the best views, stunning scenery, and sunsets. You can find many cycling tours that allow you to go on a cycling trip with your loved ones to make the most of the memories.
Exploring the Wildlife in Sri Lanka
While Sri Lanka has some of the world's best Buddhist temples, it also has diverse wildlife that can provide you with the adventure you need when you are going out with your loved ones. There are plenty of national parks here that can provide you with some stunning jungle scenery and landscapes.
You can visit Yala National Park and Udawalawe National Park, which offer you an opportunity to explore the local wildlife, flora and fauna, and even the birds. There are plenty of jeep safari options where you can head out into the jungle to follow herds of elephants. If you are looking for a water sports adventure, you can look for whitewater rafting activities in Sri Lanka that would offer you one of the best adventures in Asia.
Go Walking the Druk Path in Bhutan
Walking some of the tough terrain can be fun and adventurous when you are doing it with your family and friends. The Druk Path trek in Bhutan can provide you with all the thrills and adventures that you wish for. This path snakes through breathtaking countryside and blue pine forests, crystal-clear lakes in the Thimpu District, and high mountain ridges that offer some stunning scenery.
You can go on a week's expedition and walk leisurely as you discover the local flora and fauna and wildlife as well. This path has a moderate difficulty level, so you will have easy areas for most of the trek. You can also camp in Bhutan to make the most of your family adventure trip.
Mountain Biking in Thailand
If you are planning to venture into the Thai countryside, you can do it with some adventure and fun by choosing mountain biking tours in Thailand. Northern Thailand can provide you with some of the densest jungles that would offer a perfect playground for you to test your limits and improve your mountain biking skills.
When you are heading here with your family, you can pedal your way through some of the hills and jungles that offer you the kick that you need. Chiang Mai is certainly the most popular mountain biking destination in Thailand because it allows you to explore the Thai jungles and pass through remote waterfalls, ancient temples, beautiful lakes, and even mountain peaks.
Sea Kayaking in Vietnam
Over the years, Vietnam has become one of the most popular tourist destinations in Asia. With bustling cities, remote villages, stunning beaches, and plenty of mountains, rivers, and lakes, Vietnam offers something for everyone.
However, if you are more into water sports activities, you can head for some sea kayaking, which has gained a lot of attention lately. Vietnam's Ha Long Bay is a UNESCO-certified paradise where most people prefer to sea kayak. This is a great way to try some adventure with your family while you explore some of the more secluded parts of the bay.
Vietnam also has a long coastline, which makes it a great destination for those who want to kayak. Apart from Ha Long Bay, you can also go kayaking at Lan Ha Bay, Ba Be Lake, Pu Luong, and Whale Island. Even if you are not into sea kayaking, you can find certified guides and tours that can help you learn more about kayaking.