Monument Rocks are also called Chalk Pyramids actually a series of large chalk formations in Gove County, Kansas. In 2008, Monument Rocks & Castle Rock were jointly named as one of the 8 wonders of Kansas. It is National Natural Landmark, rich in fossils. The chalk formation height is up to 70 feet and it was the first landmark chosen by the US Department of the Interior as a national natural landmark.
Moreover, it also includes formations such as buttes and arches. The archaeologist believes the estimated age is 80 million. The area is scientifically significant fossils these ancient chalk beds have formed highly eroded into unusual spires and shapes, making them spectacular landmarks on the plains of western Kansas!
That over the eons have been eroded by the once much larger Smoky Hill River, wind, and rain. These days, it is hard to believe that this flat, arid, cactus and buffalo grass prairie was totally covered by water, yet these awe-inspiring rock outcroppings tell a different story.
The arches and buttes of Monument Rocks are spread out over more than ten acres. The Cheyenne, Arapaho, Kiowa, Sioux, and Apache Indians utilized this area as hunting grounds when the buffalo and other game were plentiful here. The rising monoliths were also a spiritual site for the Native Americans.
The carbonate deposits were laid down during the Cretaceous Period in what was the Western Interior Seaway, which split the continent of North America into two landmasses. Monument Rocks, & Castle Rock, and other sandstone bluffs are collectively known as the "Badlands of Kansas." Furthermore, the area is also known as the source of some of the best Cretaceous marine fossils that have been found anywhere in the world.
Therefore, underneath these bluffs and outcroppings lie thousands of feet of marine sediments that have provided paleontologists with a wealth of fossils and the leftovers of extinct animals, i.e. fish bones, oyster shells, turtles, swimming reptiles, coral dinosaurs, birds, and sharks' teeth.
The local people say, after heavy rain, the region still smells like an ocean bay. Further, numerous wildlife continues to dwell in the region, including eagles, falcons, and other birds, wild deer, pronghorn antelope, jackrabbits, coyotes, and careful rattlesnakes. These natural structures attract thousands of visitors every year. At a distance, they maintain a stately elegance as they tower above the plains over 100 feet into the air.
Thus silence is still there, they bear testimony to the ancient past of the inland sea that once covered them in water. There are a number of things, which are not allowed like – no climbing, fossil hunting, camping, littering, or bonfires. Do not honk at cattle, just take only pictures and leave only footprints.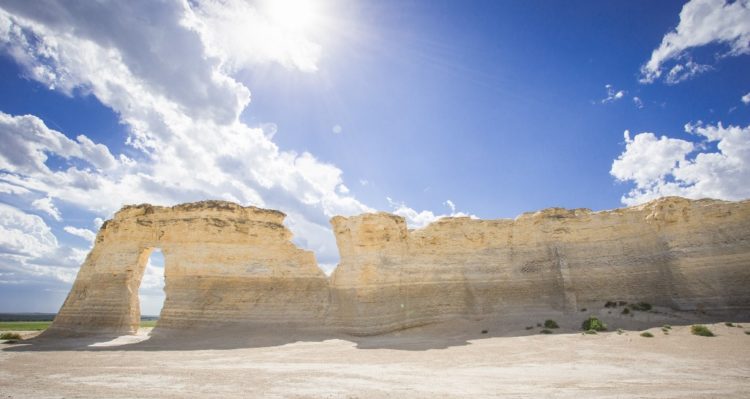 Source: Legend of America & Wikipedia