Love-Lies Bleeding Plant (Amaranthus caudatus) is a colorful and unusual plant that grows best when planted in a large group. It is suitable for growing in tubs on a patio or a balcony. This plant has beautiful flowers to decorate your gardens and gives a fresh look to your gardens.
Love-Lies Bleeding Plant is one of many varieties of the genus Amaranthus. However, some of these are found in Britain growing as wildflowers on waste ground. Others occur naturally in tropical and subtropical regions. Cultivated plants are grown for their decorative flowers and for their brightly colored leaves.
Another popular name for this plant, Tassel Flower, refers to the reddish-purple flowers which grow in long tassel-like clusters. The generic name Amaranthus is Greek; it means 'not fading', a reference to the long-lasting qualities of the blooms. The plant produces flowers from June through to October.
The plant grows best in an alkaline potting mixture. If the mixture you use is acidic, add some limestone chips to the mixture just before you plant out your seedlings. It is an annual flowering plant and its alternative names are pendant amaranth, tassel flower, velvet flower, foxtail amaranth, and quilete.
Size and Growth
Love-Lies Bleeding Plant usually grows to a height of 75 cm (30in), but in ideal conditions, it can grow as tall as 1.5 m (5ft). Growth depends largely on summer temperatures and the general growing conditions. As the plants are rather large, they should be spaced about 30 cm (12in) apart.
Display Ideas
Because of its height, Love-Lies-Bleeding is best grown singly in large pots, or in groups in a large tub or another container on a patio or balcony. It may be necessary to tie your plants to support, but if you group them together, they should support each other.
Grouping your plants also make the most effective display. When the flowers appear, you will have a dense mass of drooping color. Love-Lies-Bleeding is also an ideal annual to grow against a patio wall that catches the sun.
The flowers of the Love-Lies-Bleeding Plant hang like tassels, making a decorative display. Choose a warm and sunny spot on the patio or balcony, and you will be rewarded with colorful blooms from June to October.
Grow from Seed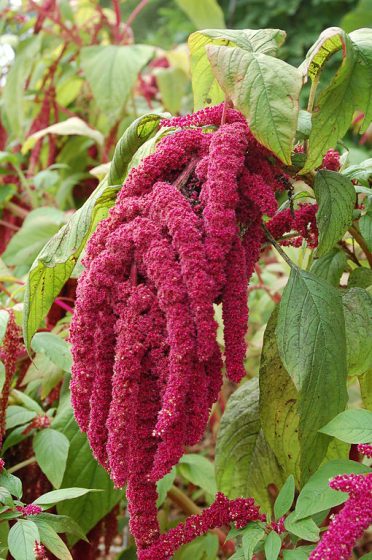 Love-Lies-Bleeding an annual and should be sown from seed each year. Either sow the seeds directly outdoors late in spring in the container in which they will sow indoors in a propagating tray or in pots and plant out later, after the danger of frost has passed.
Sow seeds outdoors in early May in prepared compost, or indoors in early April. If sowing indoors in pots, place 2-3 seeds in each pot and select only the strongest to plant out.

When seedlings are growing well, thin out to 30-36 cm apart. Moreover, water seedlings (12-14in) with tepid water.

Plant seedlings in early June in rich compost with a top layer of sand. Your plants will develop best in a warm and sunny position. The plants will flower until the end of October.
Plant Doctor
Black patches on leaves stems and flowers are caused by aphids. There may also be eggs under the leaves. Treatment: Minor infestations can be dealt with by spraying the plant with soapy water. If the pests persist or attack is severe, then spray with an insecticide.
Poor growth is usually caused by too much acidity in the potting mixture, or by damp and cold conditions. Growth may come to a standstill during bad summers. Prevention: If the potting mixture you use is acidic, add some limestone chips to it before planting.
General Care
Love-Lies Bleeding Plant is an easy plant to care for it. Like most annually it prefers a sunny position.
Potting: You need to sow seeds outdoors in a light and porous potting mixture. Use a similar mixture for planting out but add a little sand. For seeds that are sown indoors use light and chalky compost.
Watering: Hence, you need to give water generously in summer or according to the temperature and weather conditions.
Feeding: Feed your plant with a standard liquid fertilizer once every three to four weeks.
Conditions and Light: Plant seedlings in a sunny position. They need a good deal of sun.
Temperature: Sow seeds outdoors in a warm position in May. Plant out seedlings raised indoors in early June after the danger of frost has passed.
Buying Tips of Love-Lies-Bleeding Plant
If you want to buy the Love-Lies Bleeding Plant or seeds, then buy seeds in late winter or early spring. These annuals may also be sold in spring as bedding plants.
Also, look to buy only seeds that are packaged for the current season. If you are buying bedding plants, choose healthy-looking plants with no yellowed leaves.
Love-lies-Bleeding is a summer-flowering annual. It will not overwinter. The flowers are pale green at first and take on their reddish-purple color as they mature.
Read More – Glory of the Snow – A Bright Blue Star Shaped Flower
Product You May Interested