The Natural Hot Springs of Mammoth Lakes are scenic hot springs that provide ideal locations for a relaxing soak. Mammoth Lakes is situated on the edge of an ancient volcanic caldera. Here, around 760,000 years ago, a gigantic volcano exploded, leaving behind the relatively flat basin now cradling Mammoth Lakes. This spring has a large pool as well as a smaller tub.
The pool usually hovers around 95 degrees while the tub generally stays at 105. Most hot springs in the Mammoth Lakes area are primitive and have no developed facilities. There are no costs to visit any of the listed hot springs. The best time to visit the hot tub is in spring, summer, or fall, as winter snows may make the road impassable.
The wonderful hot spring's fiery past in this region's network of natural, bubbling hot tubs, some developed for safe dipping, are concentrated between Bridgeport and Mammoth Lakes. There're many hot springs here, offering a peaceful and serene as you can sit in the refreshing hot water. However, some of the famous hot pools are.
Hilltop Hot Spring: One of the best and most popular is Hilltop Hot springs has some of the majestic views of the area. Hilltop Hot spring is located only a short distance from Mammoth Lakes, the hot spring is quite popular so don't be surprised/mind if you have to share a tub with someone else. Hilltop is located on the west side of Benton Crossing Road and is open to the public.
Buckeye Hot Spring: It is located in the "Toiyabe National Forest", just north of Bridgeport and on the edge of Yosemite National Park Buckeye features pools next to a head-to-head babbling brook, very calming to the senses and frayed nerves. The hot mineral water beautifully cascades over a cave. The water here generally hovers around 100 degrees.
Moreover, troglodytes and children can enjoy soaking in the cave, while the other people can be content in the outer pools near the stream. The majority of bathers are campers, thanks to the nearby campground. This spring boasts two soaking pools next to a clear mountain stream.
Benton Hot Springs: The hot springs at Benton are possibly the purest hot springs in the world.  People can relax in tubs, as each is equipped with hot and cold taps so you can easily control the water temperature. You can relax under a shady cottonwood tub filled with ultra-pure spring water. Four tubs are antique redwood, two are fiberglass and the last is made of stone. Tubs are located under the shade of Cottonwood trees, in a lovely oasis typesetting.
Whitmore Hot Springs: It is located in the Long Valley Caldera, 20 minutes southeast of Mammoth Lakes and is surrounded by the Inyo National Forrest, in California's Eastern Sierra. The natural context of the Whitmore Hot Springs is astonishing, to be in the middle of nothing but nature in all its different forms. It is located rather desert and pristine valley, surrounded by alpine mountains, blending in with an almost lunar landscape, giving you direct contact with nature.
Travertine Hot Springs: It is one of the easiest hot springs to get to and features a stunning view of the Sierras Nevada while you soak in this natural hot spring. You can pitch a tent nearby, though not adjacent to the springs. Travertine Hot Spring is 103-degree water while taking in expansive views of the Sierra.
Shepherd's Hot Spring: This is also one of people's favorite, and also more private than Hilltop. Water temperature is controlled by a valve. Natural views are pretty amazing of the White Mountains and of the Eastern Sierra, though not as wonderful as Hilltop. It is encountered nobody here, but the tub can fit up to four people.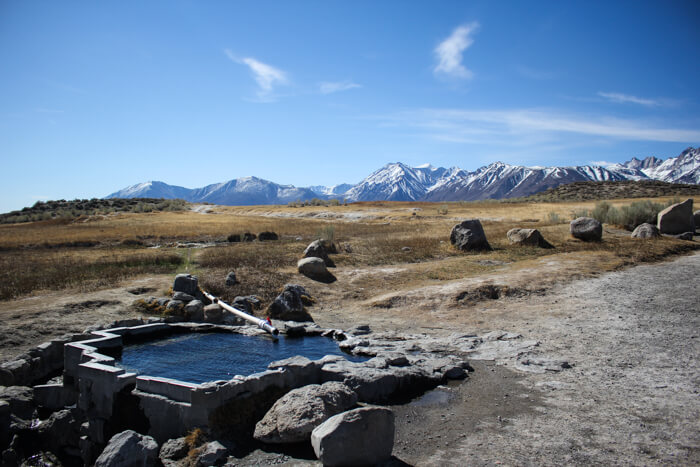 Hot Creek Springs: It is very close to Mammoth Airport, is an incredible hot spring within a cold stream surrounded by rocks and mountains all around; the effect of hot bubbles and cold water on your body is amazing. The spring can be very hot, so be careful. Recently the place has been closed for volcanic activity.
Keough Hot Springs: First opened as a medicinal and health retreat in 1919 as the water is believed to contain 27 different minerals, these springs are still a great place to soak and relax.
Wild Willy's Hot Springs: it is also known as "Crowley Hot Springs," Wild Willy's is located just a few miles from Mammoth Lakes. This hot spring is a bit more natural. Please use caution when traveling to and soaking in the hot springs.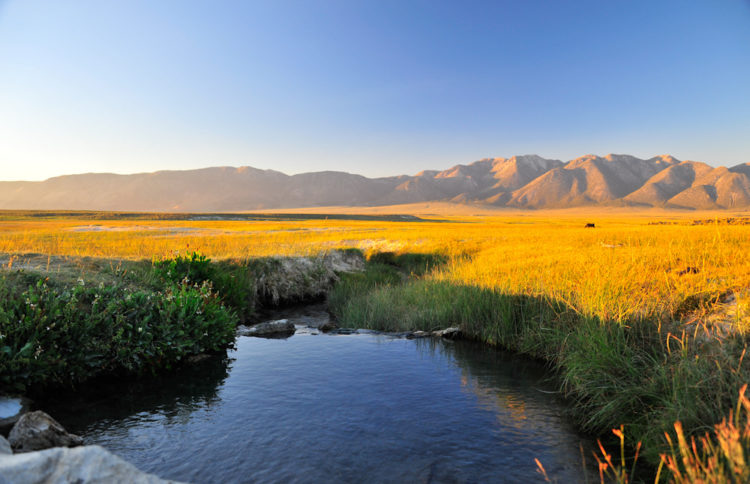 Crab Cooker Hot Springs: This tub is not easy to reach and it is not easy to park there. There is only one pool that accommodates no more than 6 people. There are taps to regulate the water temperature. However, there is a valve to control the temperature. This one is mostly found empty due to its difficult location.
Pulkey's Pool: The stunning mountain views from this cement tub are superb. It can seat about 8 people and it's easy to find. Where else can you sit in a hot tub in the middle of a meadow with a 360-degree panoramic view of snow-capped mountains? And these are big mountains, but in fact, many of the peaks in this part of the Sierras are among the tallest in the continental United States.
There're several activities you can do here, both in summer and winter. However, in summer, people can relish the majestic landscape, hiking, sightseeing, biking, rock climbing, camping, and golfing. This area is dotted with many alpine lakes where it is possible to practice numerous sports: such as canoeing and kayaking, paddle boarding, swimming, and fishing.
During the winter this is an amazing place for skiing and snowboarding, cross-country skiing, snowshoeing, snowmobiling, and ice climbing. Being in a wild environment, you have to be always careful and behave properly since you can see wildlife, such as bears, coyotes, deer, raccoons, and wolves. Rangers are there to support you and give useful advice. Make sure, when you're finished soaking, bed down at campsites located nearby. Camping is not allowed in the hot springs area.