The Sidecar
In 1890 the French engineer Jean Bertoux Linvented a single-wheeled 'side seat' that could be attached to a pedal cycle. It enabled a passenger to be carried in relative comfort while also serving to stabilize the whole unit.
In 1902 an early prototype of the modern motorcycle sidecar was produced in Britain by Mills & Fulford. The following year, the Graham brothers patented the sidecar in both Britain and France.
On the Continent, the motorbike manufacturers Johann Puch in Austria and René Gillet in France introduced their own models, but throughout the 1910s Britain dominated sidecar production.
Mills & Fulford, Burbur and Watsonian were the leading manufacturers. Sidecars were extremely popular in Europe in the interwar period and the years of post-war austerity, but suffered a steep decline when affordable small cars came on the market.
Family Outing
In the below picture, a typical motorbike and sidecar of the 1930s were mostly made of sheet metal. But there were also wickerwork models and even luxury versions with carpets.
Sidecar in Military Service
The rugged motorcycle and sidecar, which could negotiate all terrains, saw widespread service in both world wars. Often a light machine-gun was mounted on the sidecar; this column of sidecar machine-gunners (below) was on parade in London during the 1930s.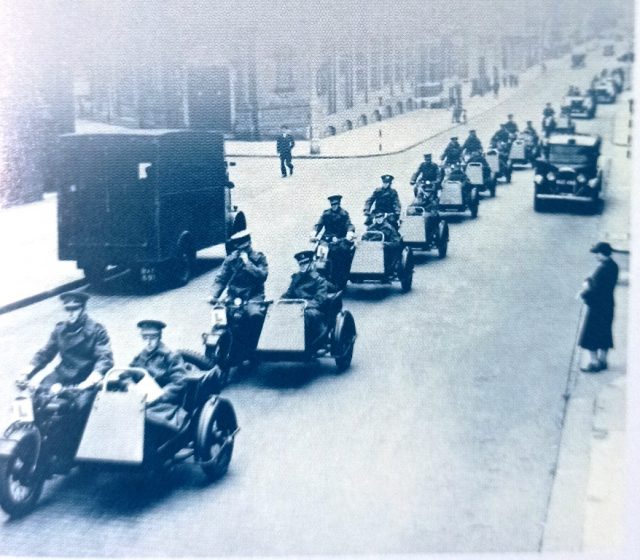 Automatic Gear Box
In 1910, the German engineer Hermann Fottinger (1877-1945) was chief engineer at a shipyard in Stettin on the Baltic. Therefore, in this capacity, he devised a fluid coupling system, which after further development formed the basis of the first Automatic Gear Box for automobiles.
In the days before synchromesh, manual gear changes were a rough business; Föttinger's system made changing gear far smoother and dispensed with the need for a clutch. In Britain in the early 1930s, Leyland Motors adopted fluid coupling, but by 1933 went over to using hydraulic torque converters in many of the Lion and Titan buses and in railcars.
These devices eliminated the need to change gear every time the bus slowed down and produced a smooth ride. Marketed as 'gearless buses', such vehicles were ideal for use in places without steep hills. Around the same time, the Daimler Company developed a semi-automatic transmission system, while in 1939 General Motors invented the Hydra-Matic Drive.
After the Second World War automatic gearboxes underwent further improvement, with fluid coupling eclipsed by torque converters. Automatic transmission became the norm for cars in the USA, but European drivers were resistant, remaining loyal to manual stick-shift gearboxes.
Compromise Solution
Faced with resistance to automatic transmission in Europe, some car manufacturers suggested using hybrid gearboxes, combining automatic and manual functions.
Product You May Interested