Why are tomatoes so healthy?
Our modern tomatoes are all descendants of wild cherry tomatoes that grew along South America's western coast. From Mexico, the Spanish introduced the fleshy tomato to Europe during the 16th century. It is believed that the Mexicans were the first to cultivate the tomato.
It was only a matter of time before the tomato became popular across southern Europe. At first, tomatoes were treated with suspicion since they belong to the deadly nightshade family, but are now a staple ingredient in Mediterranean cuisines throughout the world.
Why should you eat Tomatoes?
The antioxidant content of tomatoes is quite high, especially beta-carotene and lycopene. They also contain valuable amounts of vitamin C and E. A healthy cardiovascular system can benefit from their consumption. Besides helping to prevent some forms of cancer, including prostate cancer, research shows they may also help to prevent some types of cancer. As many as 6-8 ripe tomatoes are consumed by men daily in Mediterranean countries, lycopene seems to protect them against this form of cancer.
In tomatoes, lycopene plays an important role in preventing skin damage caused by the sun. Acne redness can also be reduced with the help of lycopene, which is a powerful anti-inflammatory agent. Consuming tomatoes has been associated with a reduction in skin cancer risk. Lycopene has been shown to reduce the risk of non-cancerous skin lesions and protect against UV-induced cancerous lesions.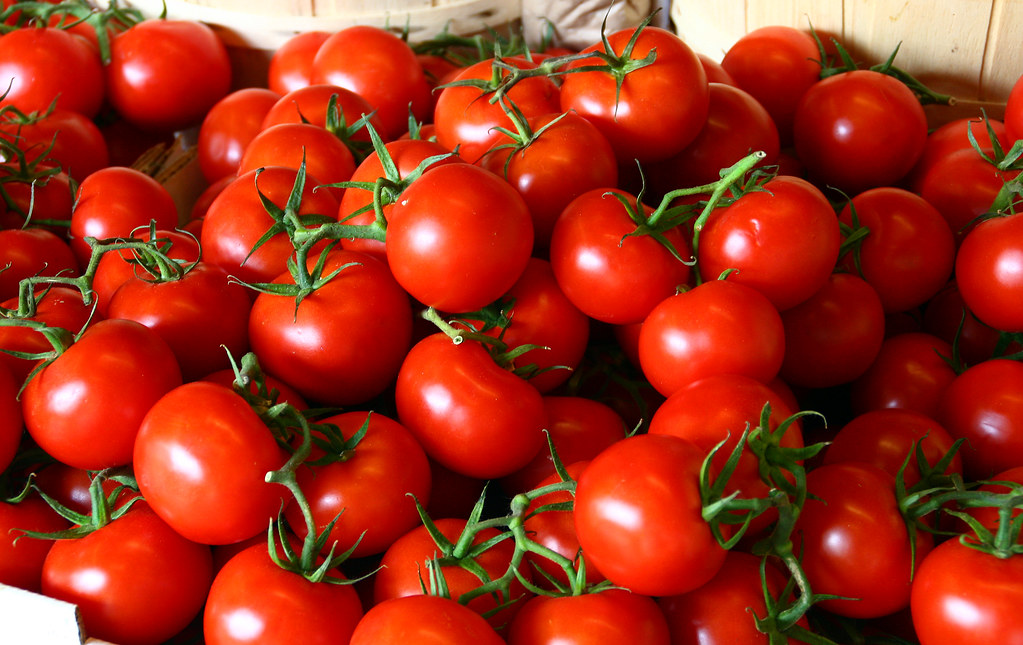 Since processed food is so prevalent nowadays, processed tomatoes contain more lycopene than fresh ones, so ketchup, tomato sauce, sun-dried tomatoes, and even canned tomatoes are great sources. Besides being low in sodium and high in potassium, tomatoes can also help treat conditions such as high blood pressure and fluid retention.
According to the largest study to date, eating four portions of tomato sauce every week reduced prostate cancer risk by 35%. The best way to get lycopene is to cook tomato products and combine them with oil – so pills won't replace the real thing. In addition to phytochemicals, tomatoes also contain other cancer-fighting compounds.
A ripe tomato contains more than 200 volatile compounds that make up its unique taste and smell. Green tomatoes contain a chemical called tomatine, which may trigger migraine attacks if you're a sufferer. Tomatine is destroyed by cooking but remains in quite high amounts in the pickled green tomatoes popular in the US.
There should always be a few tins of tomatoes in your cupboard, as they lose very little of their nutritional value during tinning and are a great standby for instant high-nutrient sauces. The idea of eating more vegetables to lose weight has been around for a while. But the science behind it has been inconclusive. Now, new research suggests that there may be a connection between eating more vegetables and weight loss.
Tomatoes are one of the most nutrient-dense vegetables you can eat. They're also low in calories, so they can help you stay on track with your diet goals. Tomatoes have a high fiber content, which helps to regulate blood sugar levels. Tomatoes are good food for diabetes because they are low in sugar and have nutrients that help regulate blood sugar levels. Tomatoes can be eaten raw or cooked, and they taste great with just about any kind of sauce.
Is Tomato a Fruit or Vegetable?
A tomato is a fruit.  To a botanist, a fruit is an entity that develops from the fertilized ovary of a flower. This means that tomatoes, squash, pumpkins, cucumbers, peppers, eggplants, corn kernels, and bean and pea pods are all fruits. Tomatoes are the fruit of the plant Solanum lycopersicum, and they have been long thought to be berries.
Tomatoes are officially considered vegetables by the USDA. This is because they are used in soups, sauces, and other savory dishes, not desserts. Tomatoes are a fruit because they are grown on the vine, have seeds, and have a lot of sugar.