Description:
Pineapples are a tropical fruit that grows on a plant of the same name. The fruit is large, spiky, and has a tough, waxy skin that is usually a dark greenish-brown or yellowish-brown color. Inside, the fruit is sweet and juicy, with a fibrous, edible core and a crown of spiky green leaves at the top. Pineapples are commonly used in cooking, particularly in sweet dishes such as cakes, pies, and fruit salads, and are also enjoyed fresh as a healthy snack.
In addition to their culinary uses, pineapples are also a source of important vitamins and nutrients, including vitamin C, manganese, and bromelain, an enzyme that may have anti-inflammatory and digestive benefits.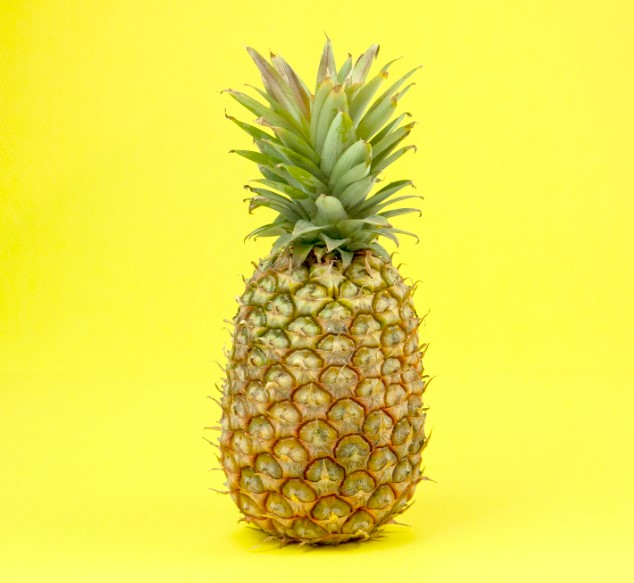 Etymology
The word "pineapple" comes from the Spanish word "piña," which means "pinecone," and the English word "an apple," due to the fruit's resemblance to a pinecone and the sweetness of the fruit. The term "pineapple" was first used in English in the 1390s to describe the pinecone fruit, but it wasn't until the 17th century that it began to be used to describe the tropical fruit we know today. Pineapples are native to South America and were first cultivated by the indigenous peoples of the region. They were introduced to Europe by Christopher Columbus in the late 15th century and later brought to other parts of the world by European explorers and colonizers.
Scientific Name:
The scientific name for pineapples is Ananas comosus.
Health Benefits of Pineapple
It's worth noting that while pineapples may offer these benefits, they should not be relied upon as a cure-all for any particular health issue. As with any food or supplement, it's important to consume pineapples as part of a balanced and varied diet. Pineapples offer several potential benefits for men, including:
Improved digestion:
Pineapples are a great source of dietary fiber, which is essential for maintaining a healthy digestive system. Fiber helps to keep you feeling full, regulates bowel movements, and prevents constipation. Pineapples also contain bromelain, a mixture of enzymes that can break down protein, aid in digestion, and reduce inflammation in the gut. In addition, bromelain can also help to improve nutrient absorption, allowing the body to better absorb important vitamins and minerals. Overall, adding pineapples to your diet can have significant benefits for your digestive health.
Increased immunity:
Pineapple is a great source of vitamin C, a powerful antioxidant that helps boost the immune system. One serving of pineapple can provide up to 131% of the daily recommended intake of vitamin C, making it an excellent way to enhance the body's natural defense system. Vitamin C can stimulate the production of white blood cells and protect against harmful pathogens, reducing the risk of infections and illnesses. Pineapple also contains bromelain, an enzyme that has anti-inflammatory and immune-boosting properties. These compounds help fight off viruses and bacteria, making pineapple an ideal fruit to add to your diet to support your overall health and immunity.
Anti-inflammatory effects:
Pineapples have been found to have anti-inflammatory effects on the body, which can help to reduce pain and swelling. This is due to the presence of a group of enzymes called bromelain, which has been shown to have both anti-inflammatory and analgesic properties. Bromelain works by breaking down proteins in the body, which can help to reduce inflammation and improve healing. Studies have found that bromelain may be effective in reducing inflammation in a range of conditions, including osteoarthritis, asthma, and sinusitis. Pineapples also contain high levels of vitamin C, which is a potent antioxidant that can help to reduce inflammation and improve immune function. Overall, incorporating pineapples into the diet may be a simple and effective way to help reduce inflammation and promote overall health.
Potential cancer-fighting properties:
Pineapples contain compounds that have shown potential in fighting cancer. One of these compounds is bromelain, an enzyme that has been shown to have anti-cancer properties in laboratory studies. Additionally, pineapples are a good source of antioxidants, which can help protect cells from damage by free radicals that can contribute to the development of cancer. Some studies have also suggested that the anti-inflammatory effects of pineapples may help prevent the growth of cancer cells. While more research is needed to fully understand the potential cancer-fighting properties of pineapples, adding this tropical fruit to your diet can be a delicious way to potentially support your overall health and well-being.
Improved fertility:
Pineapples are a good source of manganese, which is important for male fertility and sperm quality. In addition, bromelain has been suggested to help improve fertility in both men and women. Studies have shown that bromelain may improve sperm quality and motility, and may also help to reduce inflammation in the reproductive organs. For women, the anti-inflammatory properties of bromelain may help to improve implantation rates, making it easier to conceive. While more research is needed in this area, incorporating pineapples into a well-balanced diet may be a natural and tasty way to support overall reproductive health.
Reduce the risk of chronic diseases:
Pineapple contains a range of antioxidants, including flavonoids and phenolic acids, which have been linked to a reduced risk of chronic diseases such as heart disease, certain cancers, and Alzheimer's disease.
Cultivation:
Pineapple cultivation is a widespread practice in tropical and subtropical regions worldwide. Pineapple plants require well-drained soil and warm temperatures to grow, typically between 60 and 90°F (16-32°C). They can be propagated by planting the crown of mature fruit, and they typically reach maturity in 18-24 months. Pineapple plants produce a central fruit stalk that bears a single fruit, which can take up to six months to mature. The fruit is harvested by cutting it from the stalk when it reaches optimal ripeness, which is determined by external appearance, smell, and taste. Pineapples are a popular commercial fruit crop due to their versatile culinary applications and high nutritional value.
Botanical varieties of pineapple 
The pineapple (Ananas comosus) is a tropical fruit that belongs to the Bromeliaceae family. It is classified into five botanical varieties based on their physical and biological characteristics, including fruit size, shape, and sweetness.
The five botanical varieties of pineapple are:
Smooth Cayenne – the most commonly grown variety, with a cylindrical shape and sweet flavor.

Red Spanish – a smaller and more acidic variety, often used for canning and juicing.

Queen – a small, sweet, and tender variety that is often used for canning and making pineapple juice.

Abacaxi – a Brazilian variety known for its low acidity and high sweetness.

Pernambuco – a Brazilian variety with a conical shape, small size, and very sweet flavor.
Each variety has its own unique characteristics, making them suitable for different culinary applications and growing conditions.