Rohtas Fort is a 16th-century fortress located in Jehlum city in the province of Punjab during the regime of Sher Shah Suri. The nearby Gakhar tribes were strong allies of the Mughal Emperor, so they reject the suzerainty of Sher Shah Suri (The Founder of Suri Dynasty). Rohtas Fort is one of the largest and formidable fortified complexes that has survived for many centuries.
The fort had a profound influence, and it has many monumental gateways and big defensive four kilometers walls in circumference. After Sher Shah Suri's death in 1545, his regime fell apart. In 1997, Rohtas Fort has declared a UNESCO World Heritage Site. The fort is not far away from GT Road, only 8 kilometers. One can easily go there as the road is in perfect condition.
The main purpose of Qila Rohtas is to overlook a gorge, where the Kahan River meets the seasonal stream within the Tilla Jogian Range. The fort covers an area of 12.63 acres, 2,660 feet above sea level and 300 meters above its surrounding. Although, Qila Rohtas was not a popular place among Mughal Emperors. Because Emperor Akbar and Jahangir stayed a single night during their expedition to Kashmir. The Durrani ruler, Ahmad Shah Durrani used Qila Rohtas during his expedition and invasion to the Sikhs regime. Timur Shah Durrani took the Rohtas Fort from Sikhs in 1780.
Who Built Rohtas Fort?
As mentioned above, Rohtas Fort was built by Sher Shah Suri, in order to stop the Mughal Emperor Hamayun, exiled to Persia after a heavy defeat in the Battle of Kannaju. Sher Shah Suri knows the importance of the strategic location of Fort, to stop Mughal Emperor and Gakhar tribes. Later, the Fort was served as the capital of the Gakhar Tribes. Rohtas Fort walls have small Machicolations used by soldiers to observe on the inside to pour molten lead and hot liquids on soldiers trying to scale the walls.
When Was Rohtas Fort Built?
In 1541, Sher Shah Suri was ordered to construct a solid defensive fort after the victory over Hamayun. Therefore, the Qila Rohtas was ceded to Hamayun in 1555. Until 1707 the Fort was used during the Mughal era. However, Afghan emperors Nadir Shah and Ahmed Shah Abdali also utilized during the waning days of the Mughal Emperor. In 1825, Gurmukh Singh conquered the Rohtas Fort from Nur Khan until British rulers collapsed the Fort.
Qila Rohtas Layout?
The fort wall varies, from ten to eighteen meters with its 10 to 13-meter thickness. The walls were constructed with ashlar stone. It has 12 gates and 68 U-shaped bastions with the best masonry work on it. Some of its famous gates are Sohail Bukhari, Shah Chandwali, Kabuli, Shishi, Langar Khani, Talaqi, Mori or Kashmiri, Khwas Khani, Gatali, Tulla Mori, Pippli, and Sar.
Moreover, the remains of Shahi Masjid are still is near the Kabuli gate. Furthermore, the Rani Mahal also exists near the one storey Haveli Man Singh. The fort depicts Masculine architecture, had no permanent building for living. Rohtas Fort is a beautiful combination of Middle Eastern, Turkish, and South Asian artistic traditions.
Calligraphy and Artwork
The stones are beautifully carved on the Masjid and gate engraving in the Arabic language. One stone is magnificently carved with the word "Allah". In the Shahi Masjid, the First Kalima is beautifully written on both sides of every arch. The Shishi gate inscribed the date of commencing in the Persian language.
Also, there are inscriptions found on Talaqi Gate, Gatali Gate, Langar Khani, and Khwas Khani gate. Moreover, plaster has been applied to Shahi Masjid. Rohtas Fort has magnificent decorative elements, its high and low-relief carvings, calligraphic inscription in marble and sandstone, plaster ornaments, and glaze tiles showing the early Muslim military architecture.
Rohtas Qila still stands after several centuries to bear the seepage, torrential rains, overlooked by local government, caused some damage to a few gates. However, rainwater has badly damaged its bastion and supporting walls and erosion of its foundation. Moreover, many legends believe the Rohtas Fort shows true high-level integrity and legitimacy.
Outside Langer Khani gate, a lady named Khair-un-Nisa died here, (daughter of Food Minister Qadir Bukhsh) and she was buried here, but after some time she moved to Sasaram a city in the Bahar State of India.  There is a Gurudwara Chowa located outside the Talaqi Gate.
Distance from Lahore and Islamabad?
From Islamabad, almost 110 kilometers travel on GT Road to the small city of Dina. Moreover, from Lahore Rohtas Fort is 217 kilometers, and it took 4 hours and 15 drives on GT road. When you reached Dina, keep looking at the display board of Fort, giving directions of 8 km, which leads to Qila Rohtas.
This road is in excellent condition, so you won't have any problems. Rohtas Fort is now a popular tourist place, which should be developed a little more for the visitors. Some tuck shops are available there to have snacks, water, and cold drinks. Moreover, you can explore Mangla Dam and Pabbi National Park on a day trip along with Rohtas Qila.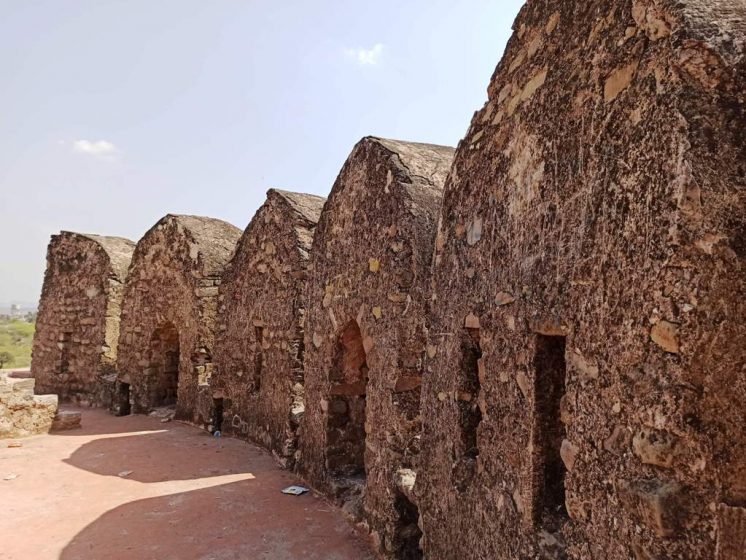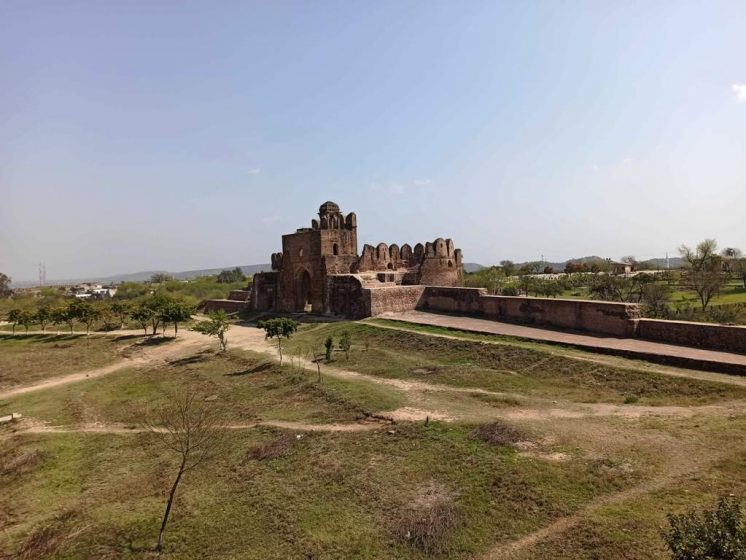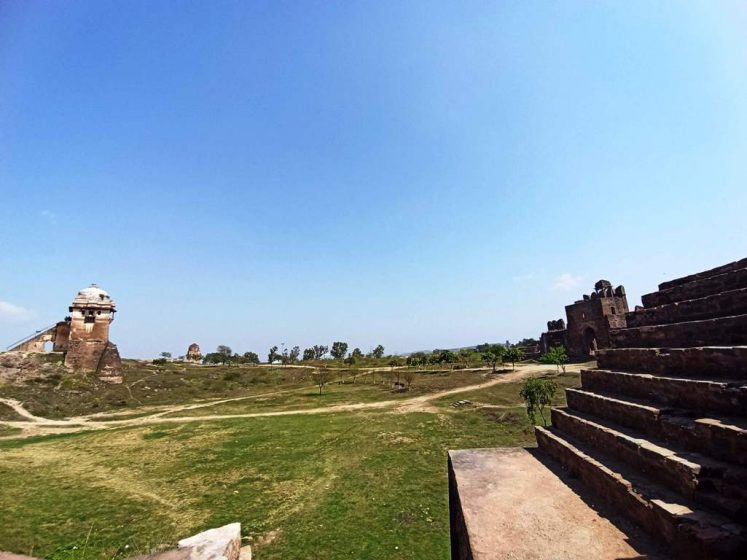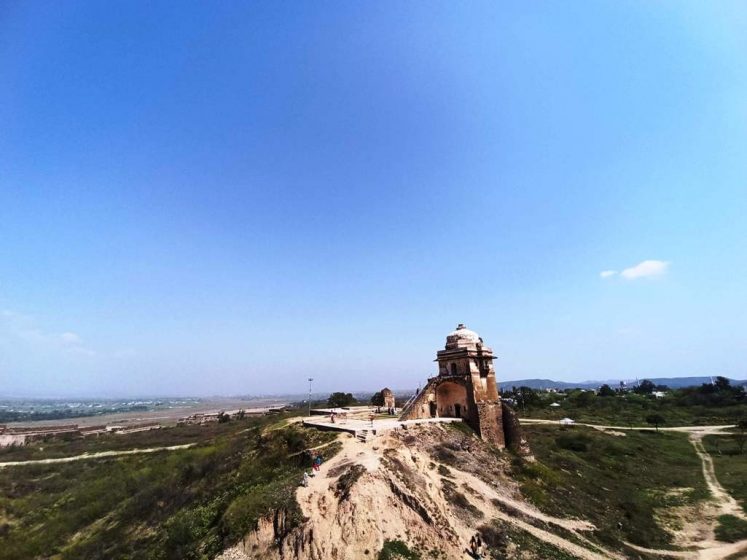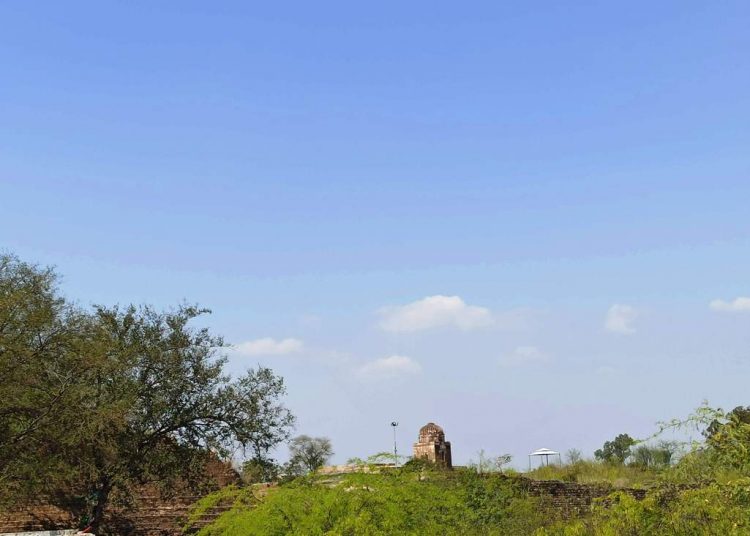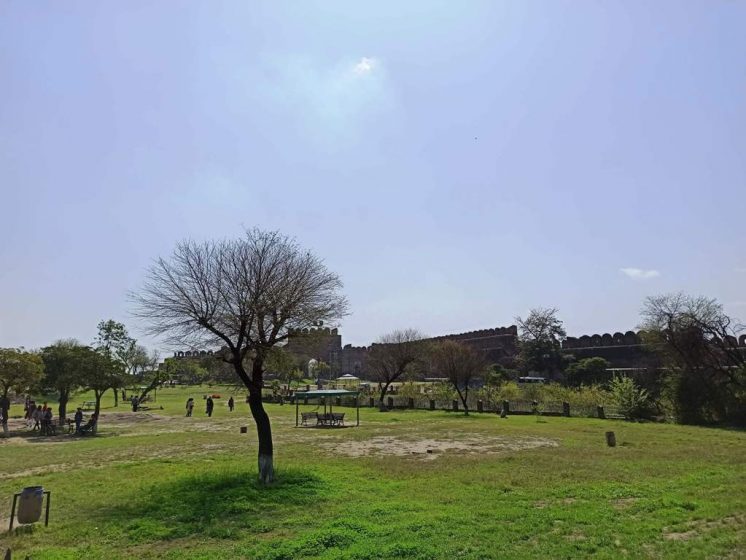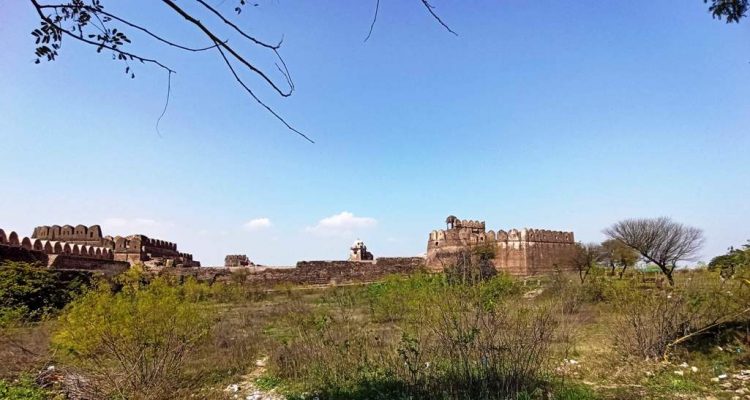 Product You May Interest